Mini Chibi Art Class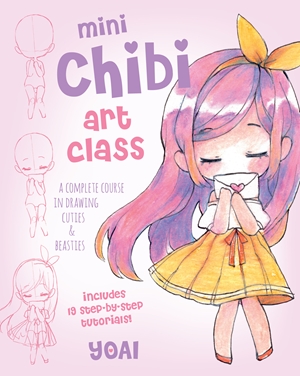 A Complete Course in Drawing Cuties and Beasties
by Yoai
$12.99 US / $17.99 CAN
Paperback, 144 pages
ISBN: 9781631067174
Race Point Publishing
Description
In this highly portable mini version of Chibi Art Class, renowned anime artist Yoai teaches you the art of chibi, step by adorable step.
Chibi is Japanese slang for "short," and popular Instagram anime artist Yoai (@yoaihime) shows you how to draw these adorable doll-like characters in Mini Chibi Art Class. Chibis are mini versions of Japanese anime and manga characters and are defined by their large heads and tiny bodies, both of which contribute to their kawaii, or cuteness, factor.
Here, you'll learn how to create chibis' signature bodies, facial features, and props, including dreamy eyes, fun clothes and shoes, vibrant hair, colorful accessories, and lively backgrounds. You'll also learn how to color and shade your vertically challenged characters for optimal cuteness. This book also features 19 chibi tutorials with simplestep-by-step illustrations and instructions, inspiration galleries, blank body bases for you to start your own chibi drawings, and uncolored chibis for practicing coloring and shading.
​Mini Chibi Art Class is part of a series of adorable mini versions of Race Point art reference books that include Mini Kawaii Doodle Class and Mini Kawaii Doodle Cuties.
Thanks to this take-anywhere crash course, soon you will be enhancing your notebooks, stationery, artwork, and more with your own unique chibi world. Mini Chibi Art Class is now in session!
Cassandra's Review- Very cute and fun to practice these are like tiny mini projects that depending on skill level can take a good amount of time in a cool way.
I received complimentary copies.
Illustration Studio: Inking Florals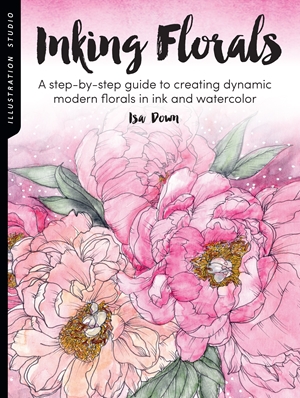 A step-by-step guide to creating dynamic modern florals in ink and watercolor
by Isa Down
$21.99 US / $28.99 CAN
Paperback, 128 pages
ISBN: 9781633228368
Walter Foster Publishing
Description
Illustration Studio: Inking Florals features inking and watercolor tips and techniques, drawing basics, an overview of plant and flower structures, and step-by-step inking projects for a well-rounded, engaging introduction to multimedia botanical art geared toward artists of all skill levels.
You will love learning to work with ink, pencil, and watercolor as you create your own favorite plants and flowers. Step-by-step projects feature popular flowers, including poppies, peonies, roses, freesias, snapdragons, and more, for a wide variety of well-loved plants that many of us have in our own gardens and/or see while out and about. The Illustration Studio series features interactive exercises, creative prompts, and step-by-step exercises to educate and excite beginning and aspiring artists working in a variety of media and techniques, from manga and anime to illustration done in ink
Illustration Studio: Inking Florals opens with an introduction to plant structure. Essential tools and materials are covered as well, and then you can learn all about drawing basics, ink shading tips, and watercolor techniques so that you have some basic knowledge before getting started on the more than 15 step-by-step drawing projects that round out the book. The final project is a bouquet that incorporates all of the instructions and tips that you have learned throughout the book. Each project in the book makes a beautiful keepsake item or gift for a loved one.
With Illustration Studio: Inking Florals, you can learn to draw, ink, and add color to all your favorite botanicals!
Cassandra's Review- If you are trying to learn this book has great first tips. The steps are not super detailed but overall it is a really fun way to spend some time and even if you decide to draw the flowers or use a diffrent medium with the ideas its a great gift.
Feminist Stitches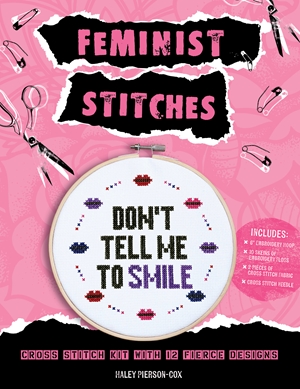 Learn to Cross Stitch 12 Fierce Designs
by Haley Pierson-Cox
$21.99 US / $28.99 CAN
Book Plus, 64 pages
ISBN: 9780760367483
becker&mayer! books
Description
Feminist Stitches offers twelve empowering feminist-themed cross-stitch patterns that celebrate strong women.
Decorate your home with framed pieces or use the patterns to personalize items like denim jackets and backpacks.
The kit includes twelve fun and original patterns featuring various designs and quotes that have been popularized by the feminist movement, plus the supplies needed to make two finished projects. The book offers step-by-step instructions with full-color photographs of the finished projects.
Cross-stitch patterns include:
The Centennial Suffragette Sign
We Can Do It
Pussy Power
Well Behaved Women Seldom Make History
Girl Just Want to Have Fundamental Human Rights
R.I.P. Gender Roles
Don't Tell Me to Smile
Not Your Babe
The Future is Female
Smash the Patriarchy
I Dissent
Resist
Cassandra's Review- A book with a purpose for a cause. While I am not a feminist I love the designs and style of the projects and the quality of the kit.
Plant Lady Embroidery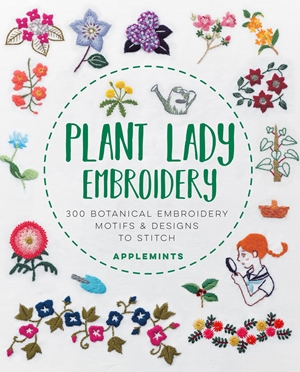 300 Botanical Embroidery Motifs & Designs to Stitch
by Applemints
$21.99 US / $28.99 CAN
Paperback, 120 pages
ISBN: 9781631598456
Quarry Books
Description
Brimming with over 300 botanical motifs, this wonderful resource will provide inspiration and instructions for embroidery artists and flower ladies everywhere. This collection features designs including flowers, ferns, succulents, leaves, bees and garden scenes. The books includes basic embroidery instruction for stitches and transferring designs onto fabric.
Original designs and clear instructions make this book a must have for any embroidery enthusiast's library.
Cassandra's Review- Patterns you can stitch or draw and get very cool results. There is so much to learn with easy to see patterns.