Cult Writers
50 Nonconformist Novelists You Need to Know Author: Ian Haydn Smith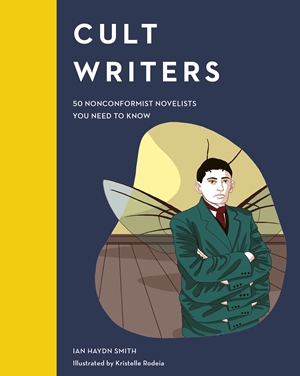 Description
Cult Writers handpicks 50 notable figures from the modern world of literature and explores the creative genius that earned them the cult label, while celebrating the works that made their names.
What makes a cult writer? Whether pioneering in their craft, fiercely and undeniably unique or critically divisive, cult writers come in all shapes and guises. Some gain instant fame, others instant notoriety, and more still remain anonymous until a chance change in fashion sees their work propelled into the limelight.
In Cult Writers Ian Haydn Smith introduces 50 novelists deserving of a cult status. The literary genres and subjects explored within these writers' pages are rich and diverse – acting as mirrors of their genius minds: from Irvine Welsh's gritty Edinburgh streets, to Ken Kesey's drug-fueled madness; from feminist trailblazer Sylvia Plath to the magical realism of Angela Carter. Discover little known with small, devout followings and superstars gracing the covers of magazines: each writer is special in their individuality and their ability to inspire, antagonize and delight.
Following Cult Artists, Cult Filmmakers and Cult Musicians, Cult Writers is an essential addition to any book lover's library, as well as an entertaining introduction to our weird and wonderful world of literature.
The writers:
Kathy Acker, James Baldwin, J.G. Ballard, Mikhail Bulgakov, Charles Bukowski, William S. Burroughs, Octavia E. Butler, Italo Calvino, Albert Camus, Angela Carter, Colette, Maryse Conde, Julio Cortazar, Philip K. Dick, Douglas Coupland, Marguerite Duras, Ralph Ellison, Elena Ferrante, Janet Frame, Jean Genet, Joseph Heller, Michel Houellebecq, James Joyce, Franz Kafka, Ken Kesey, Chris Kraus, Milan Kundera, Ursula K. Le Guin, Doris Lessing, Cormac McCarthy, Carson McCullers, Yukio Mishima, Haruki Murakami, Anais Nin, Sylvia Plath, Thomas Pynchon, Raymond Queneau, Ayn Rand, Pauline Reage, Jean Rhys, Juan Rulfo, Francoise Sagan, J.D. Salinger, Arkady and Boris Strugatsky, Donna Tartt, Jim Thompson, J.R.R. Tolkien, Kurt Vonnegut, Virginia Woolf, Irvine Welsh.
I received a complimentary copy.
Cassandra's review- I like being able to discover new people in history and finding the deeper meanings in the writings. Each person gets a good amount of coverage without over doing a story.