A modern, inclusive, and diverse approach to fashion illustration for up-and-coming designers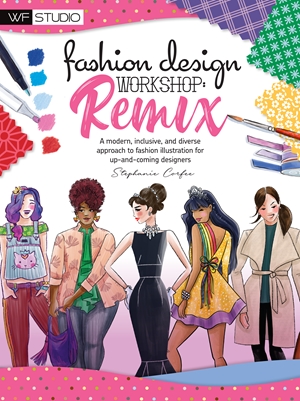 Description
Fashion Design Workshop: Remix offers a contemporary approach to fashion design illustration for aspiring artists and designers. Encouraging freedom of expression, empowerment, strength, diversity, and a modern take on individual style, Remix focuses on the diverse array of fashion for our changing times, including designing fashions for all body types and genders.
From finding design inspiration and mastering a personal illustrative style to designing entire wardrobes and combining pieces to create dozens of fresh looks, Fashion Design Workshop: Remix includes a variety of traditional and whimsical styles and ideas for maximum creativity, as well as living up to one's truest potential. Whether it's creating Instagram-worthy Red Carpet gowns, carefree Boho Music Festival ensembles, or fashions inspired by iconic men and women, Remix has a little something for every enthusiastic fashion designer.
Also included are instructions and ideas for creating accessories, jewelry, and hair designs to complement each fashion genre. A fashion icon section featuring such notables as Frida Kahlo, Audrey Hepburn, Jay-Z, and Meghan Markle gives an overview of how fashion moves and evolves, while providing tips and techniques for staying on top of trends and embracing (and rocking!) a uniquely personal style.
Step-by-step projects demonstrate how easy it is to develop eye-catching fashions quickly and easily, while helpful art tips are included throughout. Includes fashion templates that can be copied and used again and again.
I received a complimentary copy.
Cassandra's Review- Well thought out ideas and tips that will help to create beautiful images.