52 DIY Projects to Inspire, Excite, and Empower Kids to Create Useful, Beautiful Handmade Goods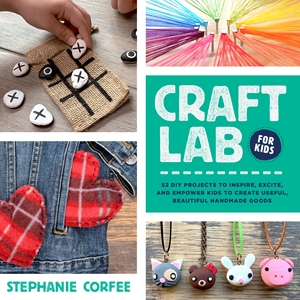 Description
With Craft Lab for Kids, help your kids tap into the fun and empowerment of creating their own custom designs to wear, decorate with, and give.
Spruce Up Your Stuff. Learn fun ways to personalize with a variety of embellishment techniques
Express Yourself! Add your personality to all kinds of homemade projects
Take Care of YOU. Self-care DIY projects to benefit their well-being
Kids Just Wanna Have Fun. Just-for-fun projects to make everyone smile
Classic Crafts with a Twist. Tried-and-true crafts updated for today's kids
15-Minute Makes. Quickie crafts to make in a flash
Kindness Crafts. Crafty creations to brighten someone's day
Enjoy the pleasure and satisfaction of making things together with Craft Lab for Kids!
The popular Lab for Kids series features a growing list of books that share hands-on activities and projects on a wide host of topics, including art, astronomy, clay, geology, math, and even how to create your own circus—all authored by established experts in their fields. Each lab contains a complete materials list, clear step-by-step photographs of the process, as well as finished samples. The labs can be used as singular projects or as part of a yearlong curriculum of experiential learning. The activities are open-ended, designed to be explored over and over, often with different results. Geared toward being taught or guided by adults, they are enriching for a range of ages and skill levels. Gain firsthand knowledge on your favorite topic with Lab for Kids.
I received a complimentary copy.
Cassandra's Review- Fun ideas that do not cost a lot of money and will make craft time fun.