Meditative Stone Art
Create over 40 Mandala and Nature-Inspired Designs
Meditative Stone Art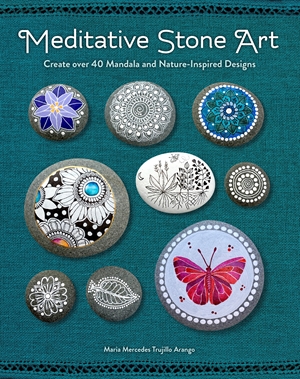 $23.99 / £12.99
Author: Maria Mercedes Trujillo Arango
Alleviate stress, foster creativity, and commune with nature while creating beautiful art with Meditative Stone Art.
Let artist Maria Mercedes Trujillo Arango guide you on a meditative art journey, for beginner and expert crafters alike, as she shares her unique and elegant designs for decorating stones. Meditative Stone Art includes 44 illustrated step-by-step projects—21 calming mandala designs and 23 nature-inspired designs, including:
Single-color mandalas
Multicolor mandalas
Flowers
Leaves
Butterflies
Moths
Beetles
Fish
Chock-full of beautiful photography and easy-to-follow instructions to get your designs just right, along with drawing tutorials and information about gathering the perfect stones, tools and supplies, and art techniques, Meditative Stone Art will have you feeling inspired, focused, and relaxed in no time.
The author
Maria Mercedes Trujillo Arango is the author of Rock Point's Meditative Mandala Stones kit and is a self-taught illustrator-crafter from Bogota, Colombia, who now calls New Zealand home. She likes to draw, paint, and embroider. In 2001, she became interested in mandalas and started drawing them and learning more about their history, psychology, and symbolism. Since 2011, she has combined her love of mandalas with painting beautiful stones she has collected.
I received a complimentary copy.
Cassandra's Review- The mandala and templates are beautiful. If you can not find a stone, you can use this book and regular paper or really design on any surface you have.