How to Draw Almost Everything Volume 2
An Illustrated Sourcebook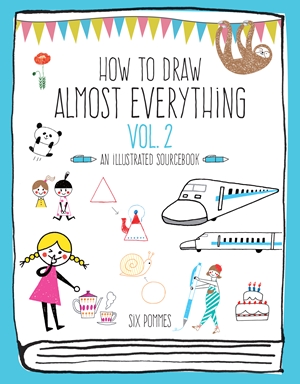 Author: Six Pommes
Format: Paperback / softback, 224 Pages
ISBN: 9781631598463
Publisher: Quarry Books
Series: Almost Everything
Description
How to Draw Almost Everything Volume 2—a follow-up to the popular book How to Draw Almost Everything, part of the Almost Everything series from Quarry Books—shows how easy it is to draw even more cute illustrations.
Learn to draw each illustration in easy-to-follow steps. Just follow the arrows to complete each step. You'll also find helpful tips and ideas for drawing variations.
Start with basic shapes, such as circles, triangles, and squares, then add special details to personalize your illustrations.
Draw animals, people, everyday objects, patterns and borders, and holiday and seasonal themes, along with warm-ups and special lessons.
An inspiration gallery offers fun ideas for adding illustrations to everyday objects or creating one-of-a-kind notes, cards, and gifts.
Each book in the Almost Everything series offers readers a fun, comprehensive, and charmingly illustrated visual directory of ideas to inspire skill building in their creative endeavors.
I received a complimentary copy.
Cassandra's Review- With practice and not a lot of skill you can re create these very cute ideas. Depending on skill level these are fun to try and make in different sizes.