Warriors, Witches, Women
Mythology's Fiercest Females
Author: Kate Hodges
Illustrated by: Harriet Lee Merrion
Format: Hardback, 224 Pages
ISBN: 9781781319260
Publisher: White Lion Publishing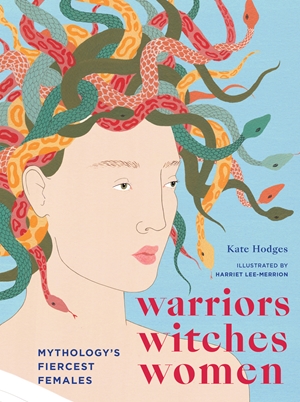 Description
Meet mythology's fifty fiercest females in this modern retelling of the world's greatest legends.
From feminist fairies to bloodsucking temptresses, half-human harpies and protective Vodou goddesses, these are women who go beyond long-haired, smiling stereotypes. Their stories are so powerful, so entrancing, that they have survived for millennia. Lovingly retold and updated, Kate Hodges places each heroine, rebel and provocateur firmly at the centre of their own narrative. Players include:
Bewitching, banished Circe, an introvert famed and feared for her transfigurative powers.
The righteous Furies, defiantly unrepentant about their dedication to justice.
Fun-loving Ame-no-Uzume who makes quarrelling friends laugh and terrifies monsters by flashing at them.
The fateful Morai sisters who spin a complex web of birth, life and death.
Find your tribe, fire your imagination and be empowered by this essential anthology of notorious, demonised and overlooked women.
The author
Kate Hodges graduated from the University of Westminster with a BA in Print Journalism. She has over 20 years writing experience on magazines, having been a staffer on publications including The Face, Bizarre, Just Seventeen, Smash Hits and Sky, and written for many more, including The Guardian, Kerrang! and NME. She has also worked for Rapido TV and P For Production films. She is the author of three books on London.
Harriet Lee-Merrion is an award-winning illustrator based in Bristol, in the South West of England. Her work has been published worldwide and exhibited internationally in New York, London and Berlin. She has illustrated for numerous clients including The British Library, Conde Nast, the Guardian, the Washington Post and the New York Times.
I received a complimentary copy.
Cassandra's review- Well bound and beautiful cover, this book is eye catching at first glance. Each female has a section that gets to the best of them as far as informational. You get a story and background for each and I was thrilled to be able to learn about new as well as learn more about older warriors, witches and females in mythology.