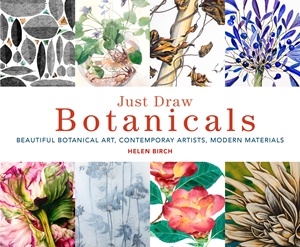 Just Draw Botanicals
Beautiful Botanical Art, Contemporary Artists, Modern Materials
By Helen Birch
$14.99 US / $19.99.00 CAN
Paperback, 208 pages
ISBN: 9780711251328
On Sale: March 3, 2020
White Lion Publishing
Description
Just Draw Botanicals presents a collection of 90 beautiful botanical images by contemporary
artists from around the world. Dip-in for advice or flick through the pages for inspiration.
Each image is accompanied by a short introduction, information on the approaches, techniques
and tools used, and useful tips. Advice covers composition, colour, painting techniques and
tips for working with plants. This is the perfect guide for artists and art lovers alike.
I received a complimentary copy
Cassandra's Review - It was fun to learn about techniques and relax with the beautiful art in this book. There is a lot of great tips to help you create and inspire.