Felt Friends Woodland Critters
Create 20 Cute Forest Animals! Includes Materials to Make 10 Animal Projects!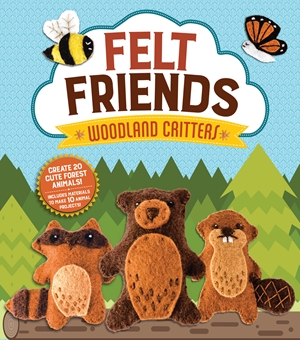 Author: Aimee Ray
Format: Kit, 48 Pages
ISBN: 9780760355176
Publisher: becker&mayer!
Description
Felting is a craft anyone can jump into, and now with Felt Friends Woodland Critters you can get started by making buddies from nature. This kit comes with everything you need to get started day one.
Felt Friends: Woodland Critters gathers a menagerie of lovable felted animals and plants in one fabulous kit, complete with a detailed guide for crafting twenty projects.
From a fuzzy fox to a winking owl, these adorable projects can become a variety of accessories; hanging ornaments, magnets, finger puppets, broaches, garlands, and more! The fully illustrated book includes an introduction to all the stitches and knots needed for the embroidering and sewing projects, and step-by-step instructions and photos of the final product.
This unique kit comes fully stocked with an embroidery needle and a fabric pen, as well as all the materials and supplies needed to create ten projects.
With Felt Friends Woodland Critters, you will make:
An acorn
A bear
A beaver
A deer
A frog
A hedgehog
A leaf
A raccoon
A robin
and a tree!
Bring these snuggly critters into your home and your heart with felting!
The author
Aimee Ray is the bestselling author of Doodle Stitching and Sweet Simple Jewelry. She sells her adorable patterns and creations as little dear on Etsy.
Aimee Ray is an illustrator, painter, writer, crafter, sculptor, and graphic designer. She writes craft books and runs her Etsy shop, Little Dear. When Aimee is not making something, she's on the internet looking at things other people make. She lives in Northwest Arkansas with her husband and two children.
I received a complimentary copy.
Cassandra's Review- I loved this compact and very fun pack that includes everything you need to relax and have fun. A perfect gift for crafters.