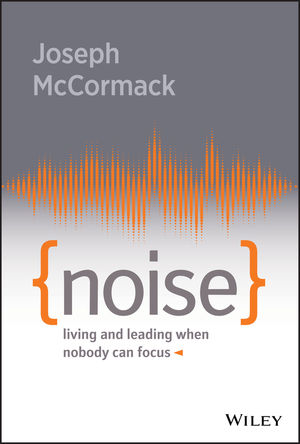 NOISE: Living and Leading When Nobody Can Focus (Wiley, December 2019, ISBN: 978-1-119-55337-3, $25.00) is available at bookstores nationwide, from major online booksellers, and direct from the publisher by calling 800-225-5945. In Canada, call 800-567-4797. For more information, please visit the
book's page
on
www.wiley.com
.
About the Author:
Joseph McCormack is the author of NOISE: Living and Leading When Nobody Can Focus. He is passionate about helping people gain clarity when there is so much com¬peting for our attention. He is a success¬ful marketer, entrepreneur, and author. His first book, BRIEF: Make a Bigger Impact by Saying Less (Wiley, 2014), sets the standard for concise communication.
Joe is the founder and managing director of The BRIEF Lab, an organization dedicated to teaching professionals, military leaders, and entrepreneurs how to think and communicate clearly. His clients include Boeing, Harley-Davidson, Microsoft, Mastercard, DuPont, and select military units and government agencies. He publishes a weekly podcast called "Just Saying" that helps people master the elusive skills of focus and brevity.
To learn more, visit
www.thebrieflab.com/noise/
.
I received a complimentary copy.
Cassandra's Review- I really enjoyed this book it has so much to offer. I could easily read certain sections over and still have so much fun. You get so much in the chapters as this author clearly understands the topics and writes everything in a way that makes you feel connected. I found that while reading this I had peaceful deep thinking moments and that is just what some people need.