'Tis the season for giving gifts! If you have a budding artist, a crafter, fiber arts lover or just want to delve into one of your favorite hobbies or discover a hidden talent, the following books are a great opportunity for gift-giving. Add some yarn and needles to the fiber arts books, some paints and brushes for the art/drawing books or create a starter kit with some beads for the Jewelry titles for a fantastic and well-rounded gift. (sending a huge thank you to Lisa)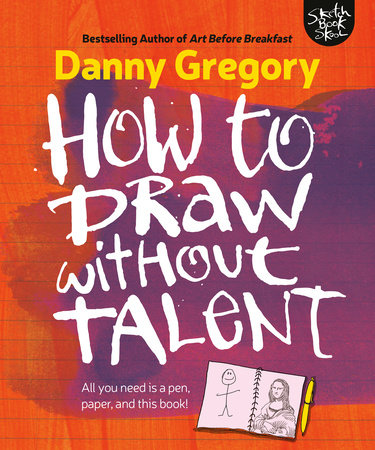 HOW TO DRAW WITHOUT TALENT
(North Light Books; Nov. 26, 2019) — Want to draw but don't think you have the talent? This book is for you--no experience or formal training required! Danny Gregory, co-founder of the popular online Sketchbook Skool, shows you how to get started making art for pleasure with fun, easy lessons. Get started fast with just a pen and paper, learn to see your subject with new eyes, and enjoy the creative process.
DRAW GREAT CHARACTERS
by Beverly Johnson (Search Press Ltd; Oct. 31, 2019) — is packed with scores of fun exercises that will really motivate young beginner artists who are just getting interested in drawing for animation, comic book art, or just for pleasure. In a series of beginner-friendly exercises, she explores how to conceptualize wonderful, convincing characters and shows how to translate ideas into great professional-looking drawings.
PLAYING WITH PAINTS—ACRYLICS
: 100 Prompts, Projects and Playful Activities by Courtney Burden (North Light Books; July 2, 2019) — Break the rules and explore acrylic paint in a free and fun way. This book encourages you to get over the fear of the blank canvas and the anxiety over the outcome so you can focus on the process of painting and the pure joy of creating. Whether you're a novice who doesn't know how to get started or a classical painter looking to try something new, you will benefit from the activities in this book, which range from quick, messy and expressive exercises to relaxing and meditative paintings.
50 BEADED BRACELETS
: Step-by-Step Techniques for Beautiful Beadwork Designs by Tammy Honaman (Interweave; July 2, 2019) — Discover Beadwork magazine's most popular designs!
Dreaming of creating your own wearable art? This gorgeous guide is a must-have for aspiring and experienced jewelry artists alike. Featuring projects for all skill levels, 50 Beaded Bracelets showcases the top techniques and styles from one of the country's most beloved beading magazines. Turn the pages to find:
Detailed tutorials on popular beading stitches—including peyote, herringbone, right-angle weave, and more.
Illustrated, step-by-step directions for 50 beautiful bracelets with graduated skill levels, so you can learn the basics before moving on to more detailed designs.
Tips on choosing the right beads for your project and working with a variety of shapes beads.
Whether you're a new to beading or an experienced crafter looking for inspiration, 50 Beaded Bracelets is the ultimate resource for creating one-of-a-kind adornments to keep or give.
50 BEADED EARRINGS
: Step-by-Step Techniques for Beautiful Beadwork Designs by Tammy Honaman (Interweave; Dec. 10, 2019) — The best of Beadwork magazine, EARRINGS! For more than 20 years, Beadwork magazine has been the go-to publication for the best projects in the beading community. In this ultimate collection, the team at Interweave has pulled together your favorite must-stitch earring designs into one essential resource--50 Beaded Earrings. This assortment features:
Your favorite techniques and styles for beautiful beaded earrings.
Bite-sized projects that allow you to learn new bead weaving techniques without a huge time commitment.
Fully illustrated step-by-step instructions for projects that range from beginner-friendly to expertly designed.
Beaded earrings have timeless style! Stitch yourself a jewelry box full of stunning designs with 50 Beaded Earrings.
KNITS FROM THE GREENHOUSE
: Knitting Patters for Plant-Based Fibers by Cornelia Bartlette (Interweave; November 19, 2019) — The properties of plant-based yarns--cotton, linen, hemp, and others--are unique, naturally. They don't behave the same as wool yarns; to show off their best characteristics you need the right project. Knits from the Greenhouse is here to help you cultivate these fibers into beautiful finished designs.
THE KNITTER'S DICTIONARY:
Knitting Know-How from A-to-Z by Kate Atherley (Interweave; Sept 2018)
From "alt" to "yrn," knitting patterns have a unique language of abbreviations and knitting techniques. The Knitter's Dictionary is your comprehensive resource to understanding the language of knitting in a quick-reference guide that no knitting bag should be without. For beginner and skilled knitters alike, there's always something new to discover in your next hand knit project. The Knitter's Dictionary puts an expert knitting instructor in the palm of your hands to help you navigate any pattern. Within this knitting bag necessity you'll also find:
• Over 150 illustrations showing you everything from the difference between a toque and a beret to how-to information on increase and decrease stitches.
• Handy cross references quickly lead you to exactly the information you need whether you've come across a new abbreviation in a knitting pattern or you've forgotten the steps to a long-tail cast on.
• Extended information on more challenging topics like taking measurements, understanding gauge, and fiber care instructions make this more than a dictionary--it's important information no knitter should be without.
• Packed with bonus tips and tricks, learn the do's and don'ts of pattern knitting making patterns easier and more enjoyable to knit!
The Knitter's Dictionary gives knitters the answers they need when and where they need them in a precise and helpful way. Give yourself or another knitter the gift of knowledge with this must-have resource.
I received complimentary copies.