A Very Fiona Christmas
Illustrated by Richard Cowdrey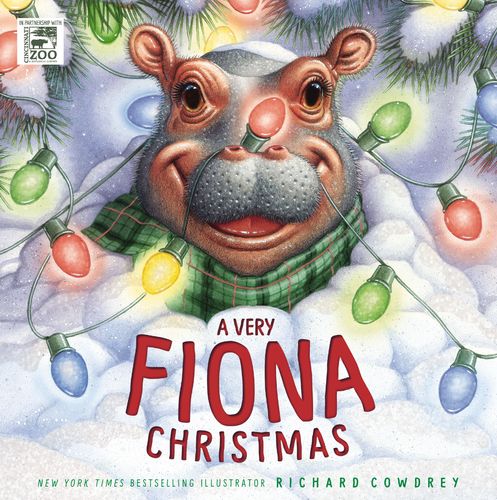 Fiona the Hippo
, Join everyone's favorite hippo, Fiona, and all her loveable animal friends for their first heartwarming Christmas adventure through the zoo to find the answer to the question, "What's Christmas?" This fun and whimsical book is the perfect read-aloud for fans of Fiona (and hippos) everywhere!
A follow-up to the New York Times bestselling Fiona the Hippo picture book comes A Very Fiona Christmas!
It's Fiona the hippo's very first Christmas, and the zoo is sparkling with holiday spirit. When the adorable little hippo asks her friends, "What's Christmas?" they set out to show her all the wonders and excitement of the season. With each new experience Fiona lets out a snort, wiggles her ears, and asks, "Is THIS Christmas?"
Amidst the snow, twinkling lights, mistletoe, and stockings, Fiona ends up meeting a new friend at the zoo who helps her discover the true meaning of the holiday: Love. Snuggle up with your little ones and join Fiona and her adorable animal friends for a heartwarming holiday romp through the zoo.
A Very Fiona Christmas:
Stars the one and only Fiona the hippo, the worldwide internet sensation and star of the Cincinnati Zoo, who through her spunk and fighting spirit overcame all odds when she was born six weeks premature
Features adorable art by Richard Cowdrey, illustrator of the New York Times bestseller Fiona the Hippo
Is Fiona's first Christmas adventure and the perfect holiday book for children and Fiona fans of any age
Will delight readers with a shimmering foil and glitter cover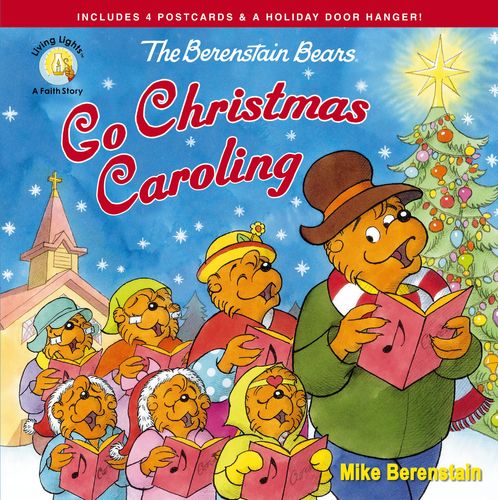 The Berenstain Bears Go Christmas Caroling
Gather you family together and join in as Mama, Papa, Brother, Sister, and Honey Bear venture together in the snowy, cold night and go door to door in Bear Country singing Christmas classics. The Berenstain Bears Go Christmas Caroling also includes 4 postcards and a holiday door hanger!
In The Berenstain Bears Go Christmas Caroling, the whole Bear family is invited by the Bear Country Carolers for a round of Christmas Eve celebrations … and your whole family is invited!
This fun new book in the popular Zonderkidz Living Lights series—beloved by parents, grandparents, children, and grandchildren alike—will earn a quick spot on your child's bookshelf. You and your children will want to read and sing along together again and again as the kid-friendly text and easy-to-read, easy-to-remember song lyrics teach valuable life lessons, encourage discussion, and take you down memory lane with each subsequent reading. The Berenstain Bears Go Christmas Caroling also includes 4 punch-out postcards and a festive holiday door hanger!
The Berenstain Bears Go Christmas Caroling:
Is perfect for parents and grandparents looking for a Bible-based, read aloud story that encourages faith in Jesus
Helps instill a love of reading in children and grandchildren
Features the hand-drawn artwork of Mike Berenstain, the son of the creators of The Berenstain Bears, Stan and Jan Berenstain
Continues in the much-loved footsteps of Stan and Jan Berenstain in the Berenstain Bears series of books, which is approaching its 60th Anniversary
Is part of one of the bestselling children's book series ever created, with more than 250 books published and nearly 300 million copies sold to date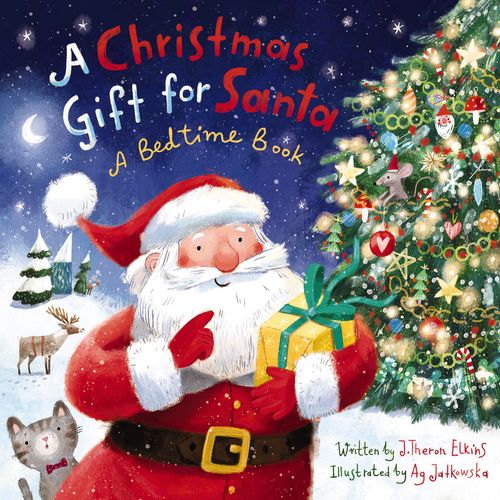 A Christmas Gift for Santa
A Bedtime Book
by John T. Elkins
Illustrated by Ag Jatkowska
It's the Christmas story you haven't read. What happens after Santa Claus delivers all the Christmas presents to boys and girls around the world? Is there a gift at home waiting for him? Cuddle up with your little ones and see what happens in what is sure to become the newest addition to your holiday reading tradition.
Has Mrs. Claus forgotten Santa on Christmas Eve? He searches and searches their cozy North Pole home until … he finds homemade gifts waiting for him next to a beautiful handwritten note. But what does it say?
This sweet Christmas book, written by J. Theron Elkins and illustrated by Ag Jatkowska, will become a holiday favorite as children cuddle up with their parents to read this wonderful story of love and gratitude before they close their eyes to go to sleep.
As his eyes slowly closed,
Once he turned off the light,
Santa whispered at last …
"Merry Christmas, sleep tight."
A Christmas Gift for Santa:
Is an adorable holiday title about Santa Claus that includes elements of faith
Is a Christmas bedtime book that the little ones in your life will want to read again and again throughout the Christmas holiday season, right up to the night of Christmas Eve
Sparkles and shines with glitter on the cover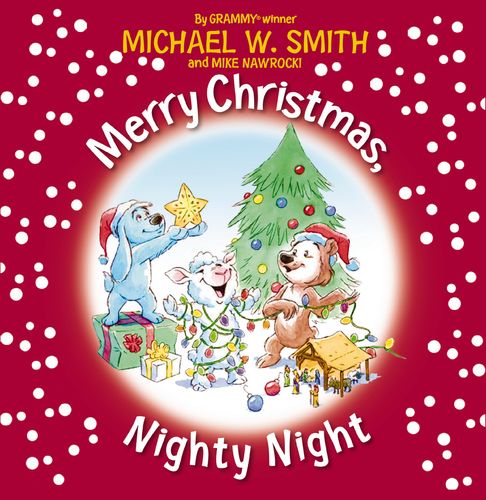 Merry Christmas, Nighty Night
by Michael W. Smith, Mike Nawrocki
It's so hard to fall asleep on Christmas Eve! Lucky for Cole and his sister, Rose, the Nighty Nights have a special Christmas song to have them dreaming and sleeping in no time. This snuggly story is the one parents and grandparents turn to when their little ones are having trouble falling sleep.
Merry Christmas, Nighty Night follows the familiar rhythm of the classic Clement Moore poem "The Night Before Christmas" to tell this gentle, musical, heartwarming story that captures the wonder of Christmas Eve while helping little ones settle in for a cozy "Silent Night."
This cute (and sleepy) adventure leads Cole and Rose to discover that when you're having trouble falling asleep, a Christmas lullaby might just do the trick.
Founded by Michael W. Smith, Nurturing Steps TM is an infant and toddler series of children's music and books with a simple mission to enliven a child's journey with hope and faith through music and storytelling.
On the night before Christmas, Cole asked from his bed,
"May I wait by the tree for my presents instead?"
"No, Cole," his mom answered, as she handed him Bear.
Then she kissed him goodnight and helped him say prayers.
Merry Christmas, Nighty Night:
Is created by Grammy winner Michael W. Smith, who has sold over 15 million albums with 32 number one hits, and VeggieTales co-creator Mike Nawrocki and the co-creator of VeggieTales, Mike Nawrocki
Is a cute holiday padded board book that sparkles with glitter and will help little ones settle in for a cozy night's sleep
Is the perfect stocking stuffer or Christmas gift for the little sugarplum in your life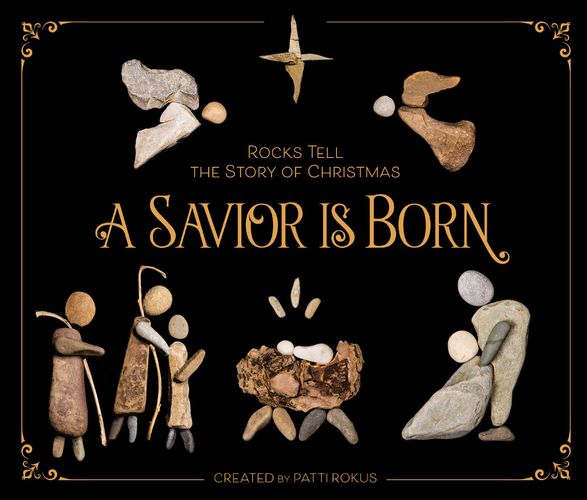 A Savior Is Born
Rocks Tell the Story of Christmas
by Patti Rokus
By arranging a few rocks together an entire story can be told. A Savior Is Born, Rocks Tell the Story of Christmas, created by Patti Rokus, is an unforgettable picture book that uses majestic rock art and simple yet powerful text to inspire wonder and awe as the miracle of Christmas unfolds across the pages. Readers will be absorbed in the nature-filled artwork that shows the birth of Jesus and the celebration of the very first Christmas in a powerful and unique way.
The cover of this book sparkles and shines with foil, embossing, and spot gloss.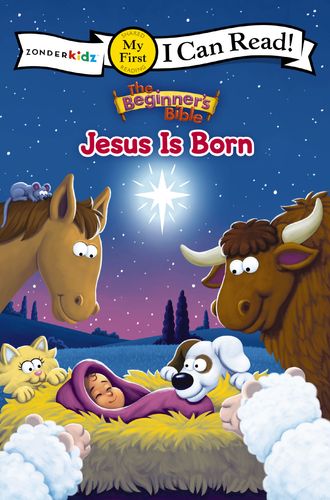 I Can Read:
The Beginner's Bible Jesus is Born
9780310760504; Softcover
A young girl named Mary is going to have a special baby. When he is born, God's angels tell everyone the good news. But the king is not happy at all. What will become of Baby Jesus?
Featuring vibrant art from the beloved The Beginner's Bible®, this faithful retelling of the story of Jesus' birth from the New Testament is perfect for parents to share God's Word with their children. Few books capture the iconic story about the first Christmas for beginning readers as memorable as the proven format of this My First I Can Read! book—The Beginner's Bible Jesus Is Born.
The Beginner's Bible:
Has been a favorite with young children and their parents since its release in 1989 with over 25 million products sold.
Features basic language, word repetition, and great illustrations
Is perfect for shared reading with a child
I received complimentary copies.
Cassandra's Review- Each one of these books is a pure joy to read out loud. Making a traditional Christmas so special and giving young minds the option to immerse themselves in God and light is a beautiful thing. Get ready for the Christmas spirit and have so much fun.