Revivify Your Home
: Take Control of Your Home Improvement With Peace of Mind and Level Up Your Life
by Grace Mase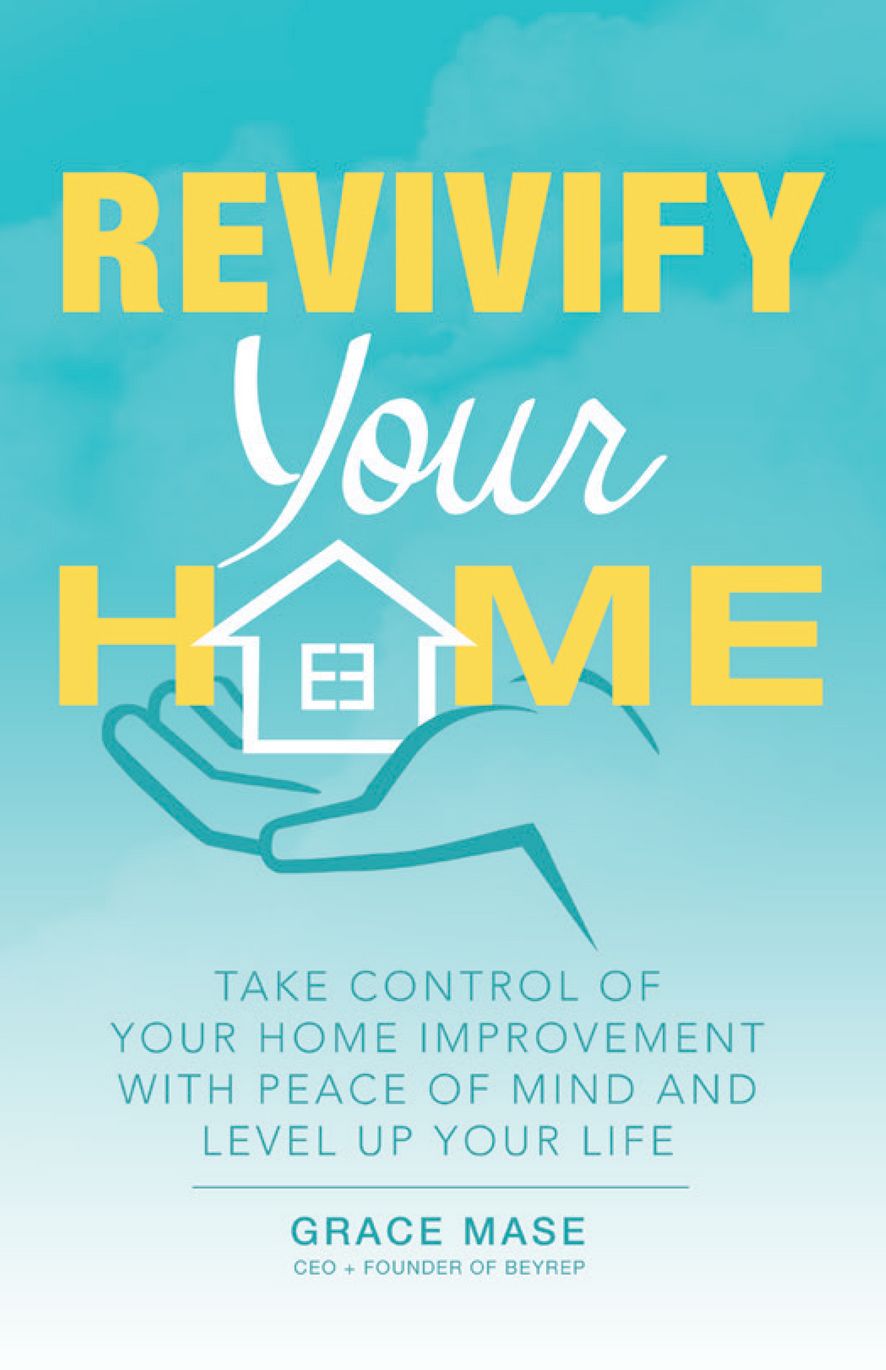 Everyone deserves a better life through a better home. Improving your home can upgrade your life.
Are you thinking about remodeling, renovating, adding-on or building your home? "Revivify Your Home" will change how you approach your project. Author Grace Mase, founder and CEO of BEYREP, is like a fairy godmother for home improvements. She will provide you peace of mind by helping you take control of your home improvement project and avoid the costly heartaches. Like tidying up with Marie Kondo's KonMari Method™, Grace will show you a simple and strategic framework to guide you through the journey to successfully achieve your home improvement goals.
When starting a major home improvement project, many homeowners would cold-call contractors or glorified handymen to gut and remodel their house without an architectural plan. It is like asking urgent care to perform delicate heart surgery without an attending heart surgeon's guidance. Fortunately, no reputable urgent care facility would take such a request, but not all contractors and handymen share the same ethical standards. This approach is a huge gamble. Perhaps it is not surprising that homeowner frustration with home improvement projects has consistently ranked as one of the top consumer complaints nationwide for over twenty years, according to the National Association of Consumer Agency Administrators and the Consumer Federation of America. Grace has heard many horror stories of home improvement projects gone wrong and transformed several potential disasters into successful projects. With architecture degrees from UC Berkeley and Yale University and experience as a former UC Berkeley Campus Architect, she has numerous successful renovation projects under her professional belt.
Many homeowners stumble through their home improvement project because they are not prepared and don't know what to expect. They don't enjoy it and feel like they are on an emotional rollercoaster. Most of them don't realize that renovating or remodeling their home is a significant emotional as well as a financial investment and rush in unprepared for such a significant undertaking. Others want to improve their home, but never take the first step because of their fear of being taken advantage of, or fear of the unknown. Grace will guide you through the process of planning strategically, preparing mentally and emotionally, and making smart decisions that save time and save money.
Drawn from her experience on thousands of projects, Grace shares her proven process that resulted in the creation of her patented BEYREP personalized online home improvement tool. Each chapter contains key insights, best practices, and strategies to help you through the process and bring order to chaos, ensuring your home improvement will be a rewarding experience that you'll enjoy for a lifetime. "Revivify Your Home: Take Control of Your Home Improvement With Peace of Mind and Level Up Your Life" will help you upgrade your life by empowering you to improve your home with confidence and peace of mind.
About the author
Grace Mase has over 20 years of experience in technology, user experience design, product development and marketing for B2B and B2C software applications. Prior to BEYREP, she held senior executive positions at YP.com, Beachbody, United Online, and Yahoo!. In her early career, she consulted many high-profile clients such as Virgin, Hard Rock, MGM Mirage, Sky UK, HP, AT&T, and Sun Microsystems. Mase was named to the 2018 Power Players List by the Modern Luxury Angeleno Magazine. Mase earned her M. Arch from Yale University and B.A. in Architecture from UC Berkeley and began her career as a campus architect for UC Berkeley. To learn more about Mase and BEYREP please visit
http://www.beyrep.com
.
I received a complimentary copy.
Cassandra's Review- With so many sections of great information and easy to reference this book is really interesting. I like how there is so much to learn with the added think moments. Very well compiled, this will help most people and teach everyone.