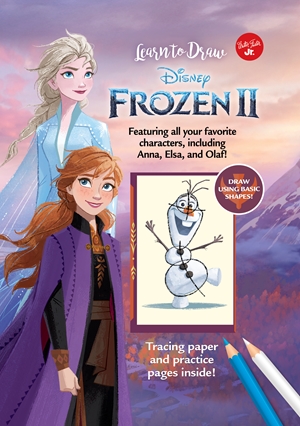 Learn to Draw Frozen 2
Price: $14.99
Author: Walter Foster Jr. Creative Team
Format: Spiral bound, 64 Pages
ISBN: 9781633228184
Publisher: Walter Foster Jr.
Series: Licensed Learn to Draw
Age Range: 6-8
Description
The step-by-step drawing exercises in Learn to Draw Disney Frozen 2 will have you drawing Elsa, Anna, Olaf, Kristoff, Sven, and the new characters from Disney Frozen 2 in no time!
With just a bit of practice, even beginning artists can draw all their favorite Disney Frozen 2 characters. This 64-page book features easy step-by-step instructions for drawing Anna and Elsa, the warm hug-loving, summer-curious snowman Olaf, outdoorsman Kristoff and his loyal reindeer, Sven. Also included are some of the new characters of Disney Frozen 2! All you'll need to start drawing is a pencil, and the easy-to-follow instructions in this book will guide you through each step!
Grab a pencil and your copy of Learn to Draw Disney Frozen 2, and flip to the character you want to draw. You will learn using three different methods: tracing, the grid-drawing method, and the basic shapes method. The basic shapes method may seem challenging at first, but the step-by-step illustrations guide you through it, beginning with simple shapes. Before you know it, you will have finished drawings of Elsa, Anna, and other Disney Frozen 2 characters! This book contains tracing paper to accompany the tracing projects, practice grids to draw on after each grid drawing project, and practice pages after each basic shapes project. All you need is a pencil to get started, but you can choose to add color to your drawings with felt-tip markers, colored pencils, watercolors, or acrylic paints.
Plus, learn some fun facts about the characters as you learn to draw them. Brief character descriptions and art instruction from professional Disney animators round out this exciting artistic adventure to Arendelle and beyond. Grab your art supplies and your copy of Learn to Draw Disney Frozen 2, and get ready to draw!
Disney Frozen 2 is a much-anticipated sequel following the success of the original 2013 film. Breaking records within Walt Disney Studios' portfolio and the film industry at large, Disney Frozen remains the #1 animated film in history, as well one of the highest-grossing films of all time at the global box office. Audiences everywhere have been captivated by the magical story of sisters Anna and Elsa.
Cassandra's Review- A fun and creative book that lets young minds or really any age have the option to trace the images or use a grid method to practice which is really cool.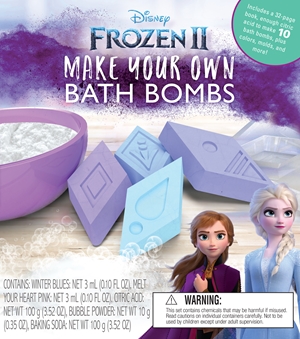 Description
With her powerful magic, Elsa can freeze water into snow crystals! Using the science and materials in this kit, children can create their own amazing transformations. Learn formulas, practice ratios, combine chemicals, and use the scientific method to form bath bombs that are uniquely Frozen 2 and uniquely yours!
Step-by-step instructions guide junior scientists in creating bath bombs inspired by their favorite Frozen 2 characters, such as Anna, Elsa, Olaf, and Kristoff. Once they master the traditional bath bomb recipe, they can move on to more advanced experiments, such as Anna's Candy Bath Bombs and Kristoff's Crystal Ice Bath Bomb, for an exciting new challenge. Ready for something different? Perform more experiments using similar materials and chemical reactions!
The adventure ends with a beautiful product to use or share, and the knowledge of why and how the bath bomb fizzes, foams, and conditions the skin.
Along with the 32-page instruction book that explains the science behind the fun, this kit includes:
Citric acid (enough to make 10 bath bombs)
Color drops (2 different colors)
Baking soda
Bubbly powder
Plastic molds shaped like the four elements (earth, wind, fire, and water) celebrated in Frozen 2
Anna's Candy Bath Bombs Recipe
Kristoff's Crystal Ice Bath Bombs Recipe
Elsa's Hot Chocolate Bath Bombs Recipe
Olaf's Natural Element Bath Bombs Recipe
Crystal Snowflake Recipe
Cassandra's Review- The book and activity kit is so much fun, there are neat ideas and you can spend so much time enjoying the different ways to craft. Plus you can always go out and get more supplies to have an even more fun time. It's really for any age and is going to make a great gift this year.
I received complimentary copies.