Portfolio: Beginning Composition
Tips and techniques for creating well-composed works of art in acrylic, watercolor, and oil
Portfolio: Beginning Composition
$21.95 / £12.99
Author: Kimberly Adams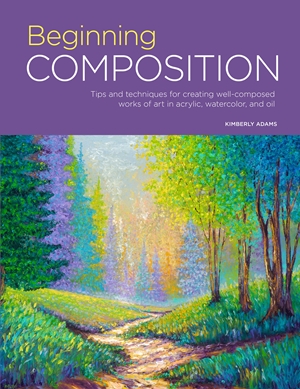 Description
Learn to create eye-catching, well-composed works of art using acrylic, oil, and watercolor paints. Beginning Composition features quick exercises for getting started in art, primers on the principles of composition and the Rule of Thirds, what to look for when composing artwork, examples of successful (and unsuccessful) compositions from a selection of artists, and customizable painting projects.
The Portfolio series covers essential art techniques, core concepts, and media with an approach and format that's perfect for aspiring, beginning, and intermediate artists. From this concept- and technique-driven series comes Beginning Composition, which details how to compose a work of art so that it draws in—and then holds—the viewer's attention.
Written and illustrated by Kimberly Adams, an experienced author and professional artist with years of experience in creating versatile, stunning works of art, Beginning Composition teaches you how to create successful compositions in acrylic, oil, and watercolor paints. After an introduction to the essentials of composition and some examples of composition in action, you are then invited to create your own artwork on a range of subjects, including landscapes, florals, animals, and more. The painting projects encourage personalization and creativity. Other topics covered include conveying mood and emotion through composition, the Golden Ratio, focal points, and more.
With Portfolio: Beginning Composition, artists of all skill levels can learn to create engaging compositions in a range of art media.
I received a complimentary copy
Cassandra's Review- The art is detailed and very beautiful. With the added tips and techniques this book is perfect for either relaxing with or taking time to practice the great ideas.