Lindie Lou Adventure Series Book 4:
Big City Magic
: Uncover the Secret of the Big Apple
by Jeanne Bender. Pina Publishing. October 15, 2019
www.lindielou.com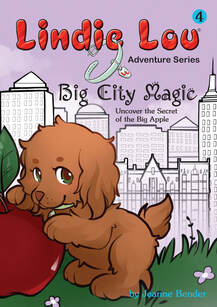 Lindie Lou can hardly wait to see what adventures New York City has to offer. She hears a legend about a big apple tree located somewhere on Manhattan Island. The legend says if you find the tree, you'll discover the biggest, sweetest, juiciest, apples on earth.
A rescue puppy named Bella, agrees to help Lindie Lou search for the big apple tree. During their quest, they encounter some unusual characters including a mysterious wise woman, a curious pack of dogs, an energetic restaurant owner, and a jolly mentor.
Follow Lindie Lou on an incredible journey to find the big apple tree because there's more to the story. The legend also says…" This tree holds a secret so amazing, so incredible, so important, it can change your life!"
First chapter book, ages 5 and up, with color illustrations.
"Big City Magic: Uncover the Secret of the Big Apple provides young readers with another Lindie Lou canine adventure. This time, the little dog is on a plane heading for New York City and adventure.. . . a winning story about a wise puppy who takes the world's challenges and runs with them. It's a delightful adventure with .... messages for kids about how to live better, more emotionally cognizant lives." - D. Donovan, Senior Reviewer, Midwest Book Review
"Great introduction for young readers into chapter books and the concept of a series." - Story Monsters Ink Magazine
I received a complimentary copy.