Learn to Draw Disney Winnie the Pooh
How to draw Pooh, Tigger, Piglet, and more!
Author: Walter Foster Jr. Creative Team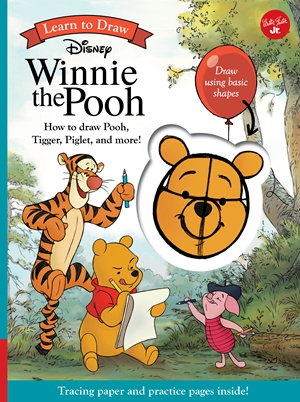 Description
Use the included tracing paper, step-by-step drawing exercises, and practice pages to learn to draw your favorite characters from the Hundred Acre Wood, including Winnie the Pooh, Piglet, Tigger, Eeyore, and more!
Learn to Draw Disney Winnie the Pooh is a 64-page, spiral-bound book that shows beginning artists how to draw the lovable characters of the Hundred Acre Wood. After an introduction to art tools and materials, there is an overview of how to use the book. Then the real fun begins! You'll find easy-to-follow drawing projects for Winnie the Pooh, Tigger, Piglet, Eeyore, Kanga, Roo, Rabbit, Owl, and Christopher Robin.
Three different learning methods make learning to draw easy: tracing, the grid drawing method, and the basic shapes method. The basic shapes method transforms a seemingly challenging drawing exercise into a series of simple steps, beginning with basic shapes. Each step builds upon the last and, before you know it, you have a finished drawing of a hungry, honey-loving stuffed bear!
This book includes tracing paper to accompany the tracing projects, practice grids to draw on, and practice pages after each basic shapes project. Use these included practice pages to get started directly in the book. All you need is a pencil!
With step-by-step instruction, professional Disney artist tips, and bonus character biographies and fun facts,Learn to Draw Disney Winnie the Pooh provides countless hours of artistic fun for Winnie the Pooh fans of all ages and skill levels. So grab your drawing pencils and get ready for an artistic adventure with Christopher Robin and his stuffed animals in the Hundred Acre Wood!
I received a complimentary copy.