Instant Pot Baby Food and Toddler Food Cookbook
Wholesome Food That Cooks Up Fast in Your Instant Pot or Other Electric Pressure Cooker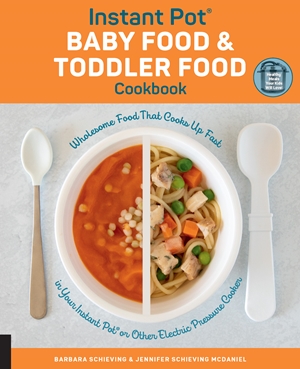 Description
Harness the power of your Instant Pot—or other electric pressure cooker or multi-cooker—to make fresh and flavorful, safe and natural, fast and convenient foods for your baby or toddler!
Parents everywhere are turning to do-it-yourself baby food making. They do so to ensure that the food they feed their children is all-natural and free of additives. They do it because, in recent years, pediatricians and dietitians have been recommending that a baby's diet—and especially a toddler's diet—feature a wide variety of ingredients, well beyond what you can buy in jars at the supermarket. And, nothing to sneeze at, they do it to save money—sometimes lots of money.
How do they find the time? It isn't always easy. Enter the wildly popular Instant Pot, along with other brands of electric pressure cooker, the perfect solution for time-crunched moms and dads. Pressure cooking is skyrocketing in popularity in large part because of its speed. You can cook up a batch of baby purees or toddler cereals in a matter of minutes. Consider how long some classic ingredients in baby foods, such as potatoes, apples, and squash, would take to cook up on a stove top or in an oven. Now reduce that time to a fraction of what it was and you can see why pressure cooking is the ideal method for making baby and toddler foods.
No less an expert than Barbara Schieving, the world's most widely read blogger on pressure cooking (her blog is called Pressure Cooking Today), author of the best-selling The Electric Pressure Cooker Cookbook, and a mom and recent grandmother herself, delivers here 100 tasty and good-looking recipes that will make you feel good about how you are feeding your kids—and will make them smile with delight at mealtime.
For the youngest crowd, she serves up simple vegetable and fruit purees, more-complex combination purees, and an abundance of fruit sauces. For children who are entering toddler hood, or are already there, there are cereals of all kinds and finger foods and spoon foods for all tastes, no matter how picky. With take-it-to-the-bank guidance on how to get the most from your cooker, plus loads of ideas on how to make and store big batches that will freeze for later use, this is a trustworthy kitchen companion parents will turn to again and again.
I received a complimentary copy.
Cassandra's Review- Great recipes that look inviting and easy to prepare.