Inspired Artist: Draw Every Little Thing
Learn to draw more than 100 everyday items, from food to fashion
Author:
Flora Waycott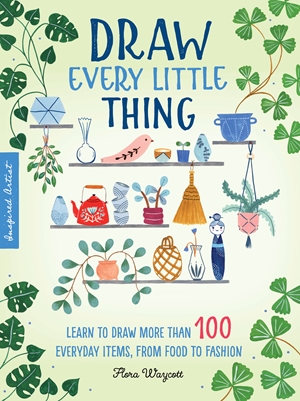 Description
Learn to draw and paint more than 100 of your favorite everyday items! Step-by-step projects and creative inspiration make it fun and easy.
The Inspired Artist series invites art hobbyists and casual art enthusiasts to have fun learning basic art concepts, relaxing into the creative process to make art in a playful, contemporary style. With Draw Every Little Thing, the first book in this new series, you can learn to draw and paint your favorite everyday items. From learning to draw and paint plants, flowers, and bicycles to the neighborhood café and the contents of the kitchen cabinet, this contemporary drawing book demonstrates just how easy it is to render the world around you with little more than a pencil, paper, and paint.
Following a brief introduction to the joys of simplistic drawing and painting, this aesthetically pleasing book familiarizes you with a range of drawing tools and materials, including graphite pencil, pen and ink, colored pencil, and gouache, before offering a quick overview of basic color theory. Each subsequent chapter is then devoted to a specific theme—kitchenalia, hobbies, neighborhood haunts, and much more—and packed with simple step-by-step drawing projects.
This accessible book encourages you to jump around so you can draw what immediately inspires you. Interactive prompts, creative exercises, and inspiring ideas make the process fun and engaging. Easy techniques and helpful instructions show you how to develop your own personal style, as well as add color to your drawings using gouache and colored pencil. Crafty projects round out the book, allowing you to use your newfound drawing and painting skills.
Filled to the brim with whimsical artwork and loads of creative ideas, Draw Every Little Thing encourages artists of all skill levels to draw any time inspiration strikes.
I received a complimentary copy.