Upcycling Outdoors
20 Creative Garden Projects Made from Reclaimed Materials Author: Max McMurdo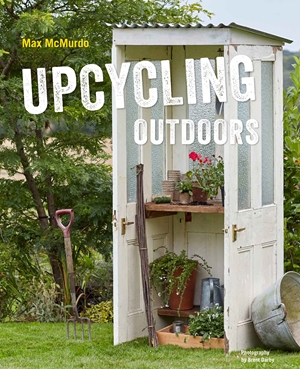 Description
Discover your inner genius and learn how to transform unwanted junk into unique and creative garden designs with designer, upcycler and entrepreneur Max McMurdo. Following the success of his first book Upcycling, Max has turned his thoughts to the outdoors with this truly inspirational collection of inventive projects, each built from recycled materials and unwanted 'spare parts'. Whether you want to create a firepit from bicycle wheels, an outdoor plant display from a painted dressing table, or fashion a potting shed from three vintage doors, Max provides invaluable know-how on the tools, techniques and materials required to take you on an outdoor creative journey.
Some of the projects involve only a few simple steps and can be completed within an hour, while others require a weekend of outdoor activity. Above all, every one of the 20 projects is designed to get you upcycling and recycling as you create designs that bring hours of pleasure to your garden.
I received a complimentary copy.
Cassandra's Review- While I would not personally be able to take the time needed to create the ideas in this really cool book, I was inspired by them. I am not sure how many people will have things just laying around like three extra doors, but the step by step guides would make it very easy to complete the projects. You also need to have quite a few tools handy.