Mindfulness for Students
Embracing Now, Looking to the Future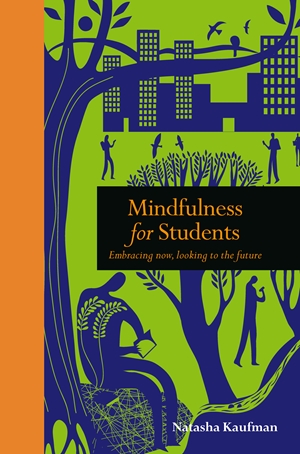 Life can be tough. With so many decisions to make at such a critical time, it's easy to feel weighed down. What's more, there is the pressure to gain good grades, to find a good job, to be a good person. Your mind may feel clogged up with no way to filter your circulating thoughts and pressures. From a young age we are taught the significance of a solid education and a fruitful career, yet with such an emphasis on academic and monetary success we often fail to prioritise a healthy mind and body. It is essential to know how to deal with life's many challenges; Mindfulness for Students will help you.
Through insightful ideas and personal anecdotes, this book will introduce you to the many benefits and applications of mindfulness - from mindful breathing, eating, exercising, sleeping, studying and communicating. There will be opportunities within each chapter to have a go at mindful meditations ranging from three to twenty minutes. There is no right or wrong approach, just what works for you. Mindfulness is a way of being, and this book will help you lay the foundations for a mindful future. Choose to be mindful and live your life in the moment, living fully and wholeheartedly, aware of self and others.
Cassandra's Review- A great amount of mindful exercises that encourager the reader to work on themselves in a positive way. It also has great tidbits of information like what cortisol is and other facts that can be very useful.
So Here I Am
Speeches by great women to empower and inspire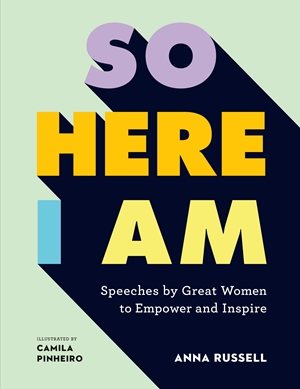 Discover the inspiring voices that have changed our world, and started a new conversation.
The first dedicated collection of seminal speeches by women from around the world, So Here I Am is about women at the forefront of change – within politics, science, human rights and media; discussing everything from free love, anti-war, scientific discoveries, race, gender and women's rights.
From Emmeline Pankhurst's 'Freedom or Death' speech and Marie Curie's trailblazing Nobel lecture, to Michelle Obama speaking on parenthood in politics and Black Lives Matter co-founder Alicia Garza's stirring ode to black women, the words collected here are empowering, engaging and inspiring.
New Yorker writer Anna Russell introduces each speech with a concise bio of the remarkable woman who delivered it. Paired with powerful illustrations from Camila Pinheiro, the unique personality of each woman is brought to vivid life. A pink ribbon keeps your place in the book.
This anthology of outspoken women throughout history is essential reading for anyone who believes that change is not only possible, it is necessary.
Cassandra's Review- A book of empowerment and strength that will teach the reader to never give up and always be true to your beliefs.
Grit and Grace
Uncommon Wisdom for Inspiring Leaders Designed to Make You Think
Author: Quotabelle
Author: Pauline Weger
Author: Alicia Williamson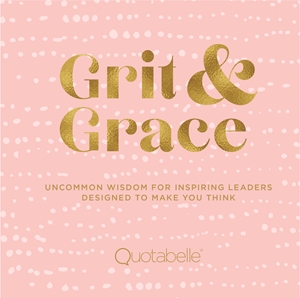 Grit & Grace
is a collection of quotes, thoughts, and advice from female pioneers to inspire young girls and women who want to lead.
With powerful words from powerful female forerunners, Louisa May Alcott and Susan B. Anthony have inspired girls and women for generations, there are now more women leading the way in more industries than ever. From the authors of the breakout inspirational book Beautifully Said comes Grit & Grace, a showcase of the brilliant minds, sterling careers, and hard work of women in both well-known and less-visible roles in society.
Grit & Grace is here to inspire young girls and women to pursue their dreams with fearlessness and determination by featuring classic and modern female leaders like Jessica Alba, Courtney Banghart, and Tiffany Dufu. The perfect gift for sisters, daughters, nieces, friends, new graduates, and any other free-thinking young woman in your life, Grit & Grace uses the strengths and successes of today's women to drive a generation of future leaders to make their talents count.
Cassandra's Review- Perfect for young girls and a look into the way some of the powerful female influencers think. Each page has a bit about someone and then a positive quote from them.
I received complimentary copies.