Ultimate Soap Carving
Easy, Oddly Satisfying Techniques for Creating Beautiful Designs--40+ Step-by-Step Tutorials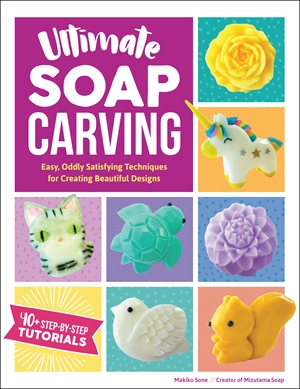 Description
In
Ultimate Soap Carving
, Makiko Sone—founder of the Mizutama.Soap YouTube channel—shares her secrets for designing and hand carving a variety of beautiful soap designs by cutting, shredding, shaping, sculpting, and other oddly satisfying techniques that ASMR fans will love.
Inside, you'll find:
Essential Supplies: Discover which knives and soaps work best for carving.
Key Techniques: Learn how to prepare soap for carving, hold a knife correctly, and make grooves, incisions, triangles, waves, and other basic cuts through eleven designs in eight step-by-step lessons. You'll also find easy recipes for making soap and other products using shavings and cuttings.
Thirty Step-by-Step Projects: Find instructions and templates for carving super-cute animals, exquisite flowers, fun fashions, sweet accessories, and more.
Packed with guidance and inspiration, Ultimate Soap Carving will teach you everything you need to carve your own stunning soap designs.
I received a complimentary copy.
Cassandra's Review- The ideas are great and the designs are so wonderful, but it would take me months to create even the easiest of the ideas. While I might try something similar with wax or another medium because soap is kind of hard to work with. The book is going to be perfect for learning and trying the art of soap carving.