Portfolio: Beginning Pen & Ink
Tips and techniques for learning to draw in pen and ink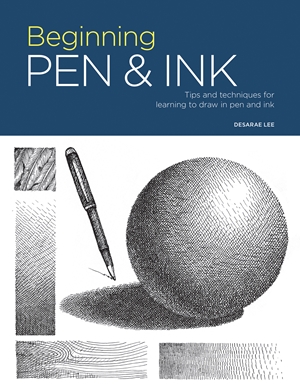 Description
From the beloved and best-selling Portfolio art series by Walter Foster Publishing comes
Portfolio: Beginning Pen & Ink
, a book that invites you to explore this classic art medium in fun and refreshing ways. This comprehensive guide is packed with valuable resources for artists of all skill levels, starting with the basics and ending with intricate, original step-by-step projects that are sure to impress—and inspire!
Portfolio: Beginning Pen & Ink introduces drawing basics, including stippling, hatching, and crosshatching; how to master the fundamentals of mark-making and line work; and helpful exercises for contour drawing, gesture drawing, perspective, and more. Chapters on value, tone, mood, light and shadow, and texture follow, ensuring that artists gain the drawing knowledge they need before working on the step-by-step projects featured in the book. Artists can even learn to add color to their black-and-white art for a fresh, modern take on an age-old art form.
Whether you're a new artist looking to try a celebrated art technique, a pen-and-ink enthusiast, a mixed-media master, or a graphite-pencil fan looking to branch out to new mediums, Portfolio: Beginning Pen & Ink will teach you everything you need to know about the fundamentals of drawing with pen and ink.
I received a complimentary copy.
Cassandra's Review- The instructions and ways to create are endless with this book because it gives you the tools to learn new or better techniques. I know depending on skill level the reader may already know some of the teachings, but no matter where you are at in the learning process this book can still be super helpful and can also be used as a refresher. I like the basic and more easy way to learn and the option to to each section at your own pace.