Artist Toolbox: Drawing Tools & Materials
A practical guide to graphite, charcoal, colored pencil, and more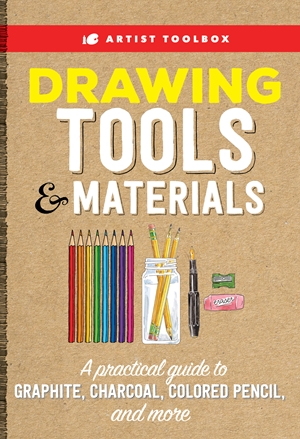 Description
Artist Toolbox: Drawing Tools & Materials
covers all drawing media, from graphite and colored pencils to crayons and pastels, as well as their uses and interactions with traditional drawing surfaces. Learn how to work with specific drawing tools, and then use them to create your own artwork.
Artist Toolbox: Drawing Tools & Materials first discusses how to create a drawing workspace—in particular, ensuring proper lighting and storage. This guide then details all of the most popular drawing media: the differences between and advantages of each, their purposes, and the effects that each tool can create.
The book covers every drawing tool, including all pencil grades, flat sketching pencils, charcoal and vine charcoal, white charcoal, conte crayons, conte pencils, colored pencils, and pastel. Surfaces and supports are discussed as well to provide a thorough introduction to everything you need to learn to draw. Step-by-step drawing projects round out the book.
Artist Toolbox: Drawing Tools & Materials provides tips, techniques, clear instructions, beautiful artwork, and detailed demonstrations for a comprehensive look at drawing. This book will make an expert out of anyone who wants to learn this classic technique.
The Artist Toolbox series includes useful, practical reference guides designed for beginning artists and art hobbyists interested in fully understanding the focus and function of essential art tools of the trade.
I received complimentary copies.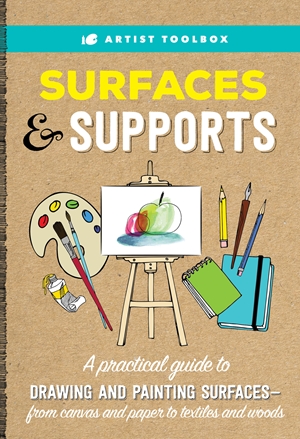 Artist Toolbox: Surfaces & Supports
A practical guide to drawing and painting surfaces -- from canvas and paper to textiles and woods
Artist Toolbox: Surfaces & Supports
explores a wide range of drawing and painting surfaces and the unique effects they have on a variety of media.
The surface you draw or paint on impacts everything in your artwork, from its texture and brightness to color and durability. Artist Toolbox: Surfaces & Supports covers the drawing and painting surfaces and supports that all artists should know. With this art book, you'll learn the basics and finer points of working on:
Canvas
Paper
Panels
Textiles
Metal
Glass
Stone
You'll also learn useful tips and techniques for preparing supports to receive media, see how to work with different media on each support, and discover the most effective way to protect your finished artwork.
Artist Toolbox: Surfaces & Supports is packed with visual examples, step-by-step tutorials, and demonstrations on the practical aspects of working with graphite and colored pencils;charcoal and pastel;and watercolor, acrylic, and oil paints. With this reference guide that no artist's library should be without, you can also learn how each support will take a medium.
Cassandra's Review- The books are not only great teaching tools but perfect for quick reference. They are small enough to go into a tote bag along with all of the other art supplies and can be used by anyone who wants to learn and is old enough to read it as well as understand them. I will be using them for my homeschool art time and think they can add more information to what I might not have thought to cover.