The Ministry of Ordinary Places
Waking Up to God's Goodness Around You
By Shannan Martin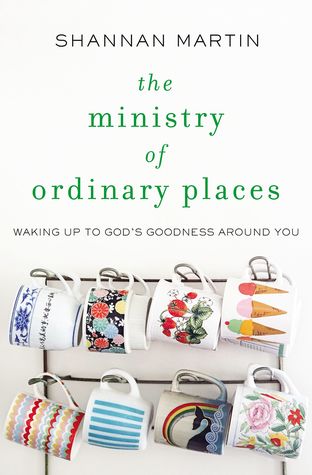 Popular blogger Shannan Martin offers Christians who are longing for a more meaningful life a simple starting point: learn what it is to love and be loved right where God has placed you.
For Christ-followers living in an increasingly complicated world, it can be easy to feel overwhelmed and unsure of how to live a life of intention and meaning. Where do we even begin?
Shannan Martin offers a surprisingly simple answer: uncover the hidden corners of our cities and neighborhoods and invest deeply in the lives of people around us. She walks us through her own discoveries about the vital importance of paying attention, as well as the hard but rewarding truth about showing up and committing for the long haul, despite the inevitable encounters with brokenness and uncertainty. With transparency, humor, heart-tugging storytelling, and more than a little personal confession, Martin shows us that no matter where we live or how much we have, as we learn what it is to be with people as Jesus was, we'll find our very lives. The details will look quiet and ordinary, and the call will both exhaust and exhilarate us. But it will be the most worth-it adventure we will ever take.
I received a complimentary copy.
Cassandra's Review- At first I wrote a huge three paragraphs for this review and had all kinds of mixed feelings. My main thing is that with so many ways that your family could get harmed by your neighbors, just outright going to spread cheer might not be the way to go. If practiced in a safe way and possibly with closer friends and family members, this book can be a good experience. It does bring humility and enough guilt to make you rethink closing doors on some people and I would recommend this for the people in life that need more from others for themselves.