Start a Magical Christmas Family Tradition That Your Child Will Cherish Forever!
Give the one-of-a-kind memorable EXPERIENCE of receiving a Package From Santa!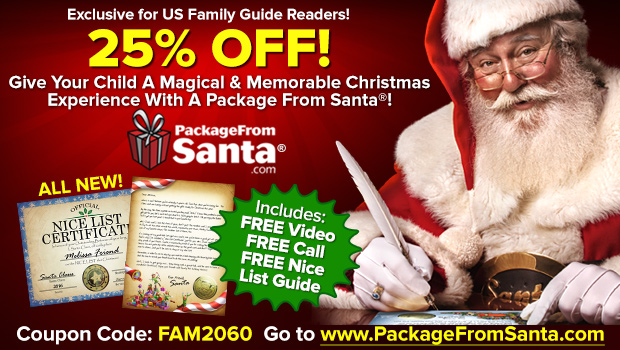 This uniquely personalized gift experience creates Christmas wonder and excitement that your child will never forget!
Have your camera ready to video every step of this special Santa experience! It all starts at the mail box when the Package From Santa arrives from the North Pole! Delight in the process of making Christmas magic come alive in a very personal way for your child, grandchild, niece, nephew, or any little one you know!
This esteem-building personalized gift is an amazing experience of joy, memories, wonder and happiness!
PackageFromSanta.com has options for EVERY BUDGET starting at $14.95 with an array of add-on goodies to choose from. Create a custom package for each child!
EVERY package come with:
-Personalized Letter from Santa
-Santa's Special North Pole Return Address Label
-Genuine North Pole Stamp
- 90-day money-back guarantee
-FREE Personalized VIDEO
- FREE Personalized PHONE CALL from Santa
- FREE Personalized printable NICE LIST GUIDE
Order this holiday must-have for your child at
https://www.packagefromsanta.com/
Get 25% off using code FAM2060
Cassandra's Review - The whole site is easy to use and there are a ton of additional things to add on to your order. I did not have a problem customizing the order and there are a lot to choose from including a new religious section for families that have different views on Santa. The shipping was fast and the package is super cute. Any age would really find this to be an enjoyable gift and very thoughtful.