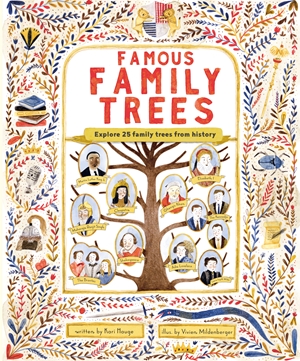 The Famous Family Trees
Explore the fascinating family histories of Abraham Lincoln, Martin Luther King Jr., Charlotte Bronte, John F Kennedy, Laura Ingalls Wilder, Maria Tallchief, and many more with 30 family trees from around the world.
This accessible, visually-stunning compendium of family trees features some of history's most loved — and loathed — famous faces and is great fun for the whole family to explore.
Genealogy and history combine to make a fascinating, fact-filled treasury of family trees belonging to famous people throughout the ages.
I received a complimentary copy.
Cassandra's Review- I think that this book is beautifully illustrated and great for the child that craves historical knowledge. As a homeschool mom, I think this is also really great for a lesson and to show the kids the connection that can take place in history.