Modern Acrylic
A contemporary exploration of acrylic painting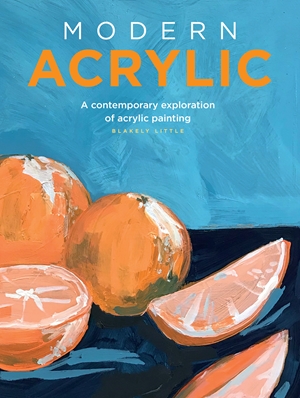 Description
Modern Acrylic
delivers the simple concepts and painting techniques you'll need to create exciting and expressive works of art.
With Modern Acrylic, artists, illustrators, art students, and art hobbyists can learn how to use basic painting techniques and concepts to create expressive works of art. You'll learn to paint flowers, animals, patterns, and even how to transfer your hand-lettering skills to paint. This guide offers a lively and creative approach to acrylic paint packed with inspiring exercises and whimsical projects.
Foremost a beginner's guide, Modern Acrylic starts with a brief introduction to the tools you'll need and continues with explanations of key painting concepts like color mixing and atmospheric perspective. Once you have a handle on the basics, it's time to create dynamic color palettes, use basic shapes and techniques to render a range of subjects, and practice mark making and textures.
Modern Acrylic is an inspiring and accessible guide to painting everything from expressive landscapes to colorful architectural gems.
I received a complimentary copy.
Cassandra's Review- If you are into modern art this is going to be a great book to help you start painting some ideas and teach you a lot of techniques. I like learning about all kinds of things and art is also very popular in my home. Not everything can be done quickly and of course your pieces might not be exact or close to the ones featured but it is fun to try and practice.