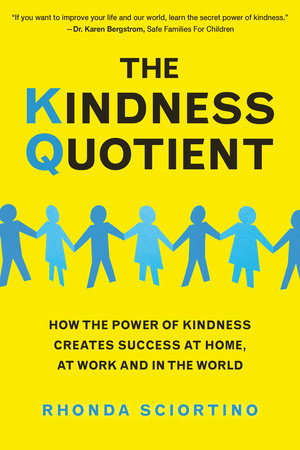 ABOUT
THE KINDNESS QUOTIENT
Harness the power of kindness to change your world.
KQ, or kindness quotient, is a measure of how much each of us embodies the virtues of kindness, caring and generosity. A high KQ means taking advantage of all opportunities to be kind and finding personal success by bringing kindness into the world. Now there's a way to boost your KQ and maximize your kindness potential.
The Kindness Quotient helps you understand exactly how kindness affects, and is affected by, everything you do. In doing so, we learn to better appreciate the importance of kindness in our personal and professional lives and learn new ways to share and experience the best that the world has to offer.
With The Kindness Quotient, you will:
– Develop the proactive habits of successful kind people
– Learn how kindness shown to others can boost your happiness
– Experience how tapping into the power of kindness can create success at work, at home and in the world
– Pinpoint new opportunities for kindness in your daily life
– Learn to embody the nine principles of kindness
Each of us has the potential to improve the world around us and increase our level of peace and happiness through kindness. So, what's your KQ?
ABOUT THE AUTHOR
Rhonda Sciortino is an author, speaker, business owner, and spokesperson for organizations including Safe Families for Children and the National Foster Parent Association. She is the founder and chairperson of Successful Survivors Foundation, and the national champion of the LOVE IS ACTION Community Initiative. She is a successful survivor of child abuse, and a passionate advocate for children who have been abandoned, neglected, abused, and/or trafficked. Rhonda can be contacted through rhonda.org or successfulsurvivors .org.
I received a complimentary copy.
Cassandra's Review- I really enjoyed this book because the author shows you real kindness and how to acheive it. There are so many tiny things you can do to be a better person for your own benefit as well as others. There are really good points and tips to discover in the chapters. I have been through the worst kind of bad in life, but I never project it onto others even though sometimes I feel like I might be. I know that other emotions are linked to kindness so be prepared.