Cut Paper Pictures
Turn Your Art and Photos into Personalized Collages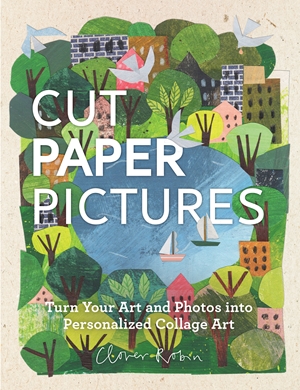 Cut Paper Pictures
allows you to create personalized art with amazing depth and texture that's fun and easy to make no matter what your skill level.
Offering step-by-step instructions, visual inspirations, and even a library of unique colors and textures, visual artist Clover Robin covers all the necessary materials, tools, and know-how, from adding color and using existing photos to create unique personal art.
The book also includes 31 perforated pages that you can pull out and use for your own collage creation. Simple, approachable, and endlessly rewarding, this book allows you to create unique and charming keepsake that you'll cherish forever.
I received a complimentary copy.
Cassandra's Review- You get ideas and styles in which to utilize them. The book holds great projects that any older age person would be able to do. Of course with some help younger children can have fun as well.
Pocket Art: Figure Drawing
The quick guide to mastering technique and style
In
Pocket Art: Figure Drawing
, the second book in the new Pocket Art series (be sure to check out the first book on portraits!), learn to draw figures on the go with the quick visual exercises in this compact book.
The lively, graphic approach of this guide will have you drawing figures right away. Look and learn with step-by-step illustrations and expert tips provided by London-based fashion and portrait artist Miss Led, a.k.a. Joanna Henly. This compact 112-page book is just the right size for carrying in a backpack or pocket, and comes with a sturdy flexi binding for added portability.
Following an introduction including a look at career directions for figure artists and an overview of tools, materials, and techniques, your lessons begin with the basics ofaccurately rendering body proportions, body types, and body parts. After you gain some experience drawing basic figures, you'll move on to adding expression—a person's style and personality, proclamation and identity—to your work. Then you'll finish up by heading out and about, practicing street sketching and movement. A gallery of drawings in the back provides a quick reference for inspiration and to reinforce what you've learned.
This quick, visual guide is a must-have for figure drawing artists of all levels.
Cassandra's review- The book is challenging but in a good way and can be used as a reference that can fit in a bag or large purse for on the go. There is a lot of information in the smaller book.