Ten-Step Drawing: Animals Learn to Draw 75 Animals in Ten Easy Steps! Ten-Step Drawing: Animals Author: Heather Kilgour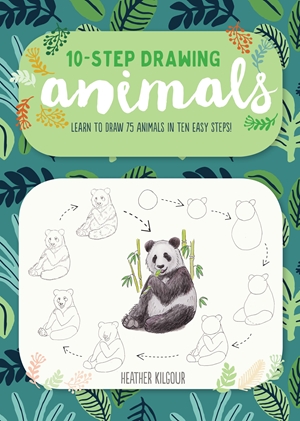 Featuring illustrated tutorials for drawing 75 different animals, Ten-Step Drawing: Animals breaks down each subject into 10 simple steps. All you need to get started is a pen or pencil and a piece of paper!
With
Ten-Step Drawing: Animals
, you will learn to create an awe-inspiring array of different animals. Step by step, you will create creatures both wild (bald eagle, armadillo, meerkat, dung beetle) and domesticated (donkey, camel, duck, goat). The animals include those from the sea (whale, sea turtle, jellyfish, walrus) and the woodland (snail, fox, raccoon, river otter). Even learn to draw your favorite pets (cat, dog, rabbit, guinea pig).
Handy prompts encourage artistic individuality, and include helpful tips for drawing other subjects not featured in the book.
Ten-Step Drawing: Animals is sure to encourage even the most reluctant amateur artist to draw their heart out.
I received complimentary copies.
Cassandra's Review- The images are small, so you you have to first learn how to create them and then try to do so on a bigger scale. Even though there is only 10 steps, it may still be hard for a beginner to do them. It is always fun to learn and so any skill level can at least practice.
The Creature Garden An Illustrator's Guide to Beautiful Beasts & Fictional Fauna The Creature Garden
Author: Zanna Goldhawk
Author: Harry Goldhawk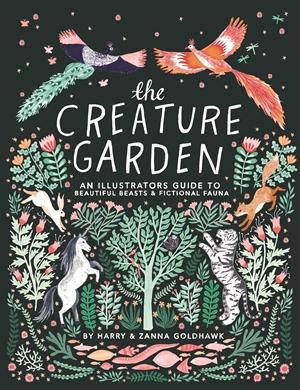 The Creature Garden takes you on a step-by-step expedition through the natural world, teaching you how to draw and paint 50 animals in a whimsical folk-art style. Your guides on this journey are the husband-and-wife illustrator team Harry and Zanna Goldhawk, the founders of Papio Press, who will teach you how to make vibrant paintings of beasts—both real and imagined.
Learn to create:
MAMMALS, including big cats, wolves, sloths, and red pandas
MARINE LIFE, including whales, sea dragons, narwhals, and giant Pacific octopi
BIRDS, including peacocks, cranes, owls, and flamingos
INSECTS, including butterflies, moths, bumblebees, and damselflies
MYTHICAL CREATURES, including mermaids, unicorns, and dragons
AND MORE!
Each project takes you through every step of the artistic process, from creating an outline to adding a realistic animal pattern, along with suggestions for materials and helpful techniques. Full of lush warmth and fairy-tale wonder,
The Creature Garden
is a wonderful addition to the repertoire of both seasoned artists and novices alike.
Cassandra's Review- While the book is very pretty and the instructions are there, I do see where it would be more complex for younger ages. You may be a bit overwhelmed by all of the added steps, but taking the time to go slowly and learn at your own pace as well as teaching your children with you might be fun.