Here are some great books for your little ones to enjoy discovering with their dads this father's day.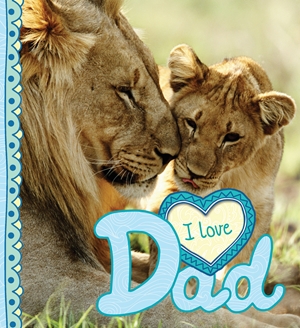 I Love Dad
Author: Camilla de la Bedoyere
This endearing book explores father and child relationships between animals, ranging from mischievous monkeys to loud lions. There are so many reasons to love our Dad - he protects us, plays with us and makes us happy. Animals feel the same way. I Love Dad perfectly captures these moments and features fascinating animal facts too. This title offers the chance for parents and children to explore the subject of human interaction using the loveable animals as examples.
Cassandra's review- Each page includes a little paragraph with a bit of information for your little one to enjoy along with a really nice animal photo.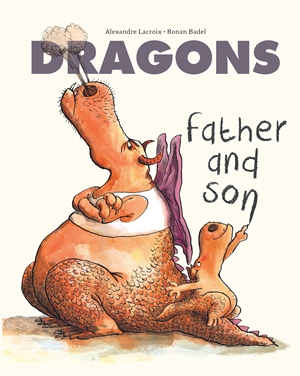 Dragons: Father and Son
Author: Alexandre Lacroix
Young Drake the dragon is sent to the local village to cause some mischief and start a fire. But Drake has only ever breathed fire to roast a tasty caterpillar. How will be burn down a whole house? Or a school? Or even an old wooden shack? Has Drake got what it takes to make his father proud?
Dragons: Father and Son is a funny and moving story about the bonds between fathers and children, with a positive, peaceful message – and all the magic and mayhem you'd hope for in a tale about dragons.
Cassandra's Review- The book is cute and easy to read, the illustrations make little one giggle, but the message is deeper and can lead to a pretty good discussion afterwards.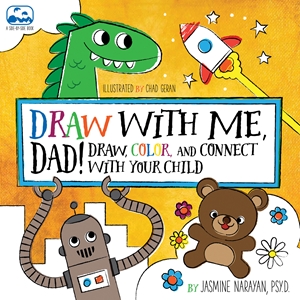 Draw with Me, Dad!
Draw, Color, and Connect with Your Child
Author: Jasmine Narayan
Create beautiful artwork and spend quality time together with Draw with Me, Dad!
Doodling is a great activity for parents to do with their children. Not only does it take you away from the screens of tablets and computers, but it gives you an authentic way to connect and have fun! Featuring over 50 unique doodling templates, family psychologist Dr. Jasmine Narayan's doodling book is shaped to make coloring side by side easier. Each spread features prompts for you and your child to doodle together and fill the scene. Work together to complete an underwater sea party, dinosaur family vacation, and so much more! The book also includes tips on how to best communicate with your child through coloring, the top 100 questions to generate thoughtful responses or engage your child, how to tailor your quality time so it's still fun, and more!
Cassandra's review- Just spending a few minutes coloring and talking with your kids can be a real blessing, but some dads do not know how to start, so this book is a good icebreaker and craft to make the day fun.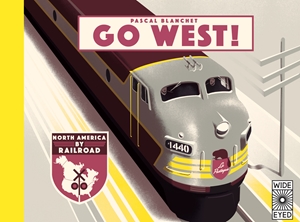 Go West!
The Great North American Railroad Adventure
Author: Pascal Blanchet
Hop aboard for the journey of a lifetime as you head out west to Los Angeles, stopping in some of North America's best-loved cities along the way, including New York, Buffalo, Chicago, Omaha, Denver, Calgary, Vancouver, Seattle and San Francisco. Explore how the railroad shaped the nation's history and discover some of its most iconic locomotives in this stylishly designed book by Canadian author/illustrator, Pascal Blanchet.
Cassandra's Review- I was very happy to share this book with my children. It is informative and when read a certain way, this can provide a real journey. The details are on point and the story is fun.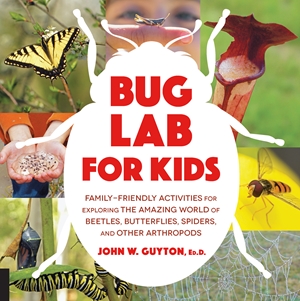 Bug Lab for Kids
Family-Friendly Activities for Exploring the Amazing World of Beetles, Butterflies, Spiders, and Other Arthropods
Author: John W. Guyton
Prepare to cozy up with spiders, centipedes, butterflies, and bees, to name just a few! In Bug Lab for Kids, Mississippi State University associate professor, extension entomologist (bug expert), and educator John W. Guyton shares his knowledge and excitement about all things beautiful, creepy, and crawly.
Every chapter is bursting with photos, illustrations, fascinating facts and fun activities--including experiments, hunt-and-catch and citizen science assignments, and arts and crafts projects--that
teach kids
about bugs' physical characteristics, behavior, and how they affect agriculture, health, and water quality.
Bug Lab for Kids also includes helpful sidebars that explain how to safely handle common insects, and how to easily identify bugs that shouldn't be held, pet, or touched. Get kids excited about science and the outdoors with Bug Lab for Kids!
Cassandra's Review- I do not think my kids would be collecting any of the bugs in this book, but learning about them and how to do so, was a great time.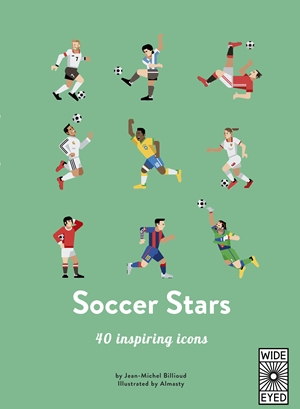 Soccer Stars
Meet 40 game changersAuthor: Jean-Michel Billioud
The greatest goals… The most spectacular saves… The top 40 soccer stars of all time are here! Learn how these soccer stars became the best in the field in this book packed with hundreds of incredible facts. Relive Ronaldo's most memorable moments, learn about Messi's legendary left foot, meet the youngest-ever World Cup goal scorer, Pelé, and see the some of the most spectacular saves in history. Every player is a winner in their own way, but who will you choose as your hero?
Cassandra's Review- Not every kid is going to go wild over this book and it is packed with facts, but some dads might and being able to know a bit more about a favorite sport could be a really great gift.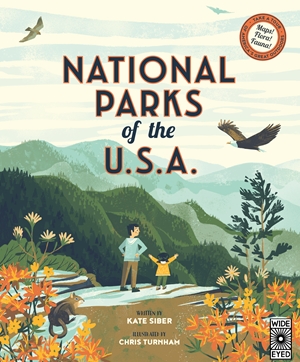 National Parks of the USA
Discover the beauty and diversity of America's great outdoors in this tour of its most iconic national parks. Explore Florida's river-laced Everglades, travel down the white water rapids of the Grand Canyon, trek across the deserts of Death Valley and scale the soaring summits of the Rocky Mountains with this book that brings you up close to nature's greatest adventures. Packed with maps and fascinating facts about the flora and fauna unique to each park, this fully-illustrated coast-to-coast journey documents the nation's most magnificent and sacred places—and shows why they should be preserved for future generations to enjoy.
Parks include: Acadia, Badlands, Big Bend, Biscayne, Bryce Canyon, Channel Islands, Death Valley, Denali, Everglades, Glacier, Glacier Bay, Grand Canyon, Great Smoky, Mountains, Hawaii volcanoes, Isle Royale, Mesa Verde, Olympic, Sequoia and Kings Canyon, Virgin Islands, Yellowstone and Yosemite.
Cassandra's Review- Even though this book is informative and provides a nice small journey of some great parks, I felt that if real photos were used to actually take you to the place instead of the illustrations, it would have been more of a fun and exploration feeling.
I received complimentary copies.