First Time Garment Fitting
By Sarah Veblen
On-Sale Date: May 1, 2018
Creative Publishing international
$19.99 US · $25.99 CAN · 128 pages · Paperback
ISBN: 9781589239623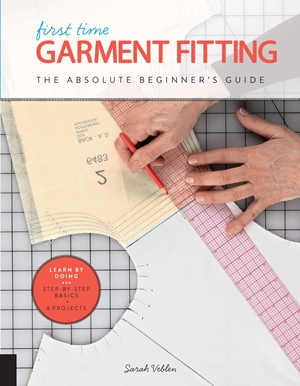 In First Time Garment Fitting, sewing and design expert Sarah Veblen takes you by the hand and teaches you everything you need to know to adapt patterns so you can sew garments that fit just right. With detailed descriptions of essential tools and techniques, the easy step-by-step instructions will have you altering patterns and sewing tops, pants, and skirts that fit you to a T in no time. The projects introduce key skills you'll use again and again for all your garment sewing.
Heavy-Duty Sewing
By Anton Sandqvist
On-Sale Date: May 10, 2018
Francis Lincoln
$19.99 US · $25.99 CAN · 128 pages · Hardcover
From the founder of the outdoor brand Sandqvist comes Heavy Duty Sewing: Making Backpacks and Other Stuff. In this book, Anton Sandqvist walks you through creating 10 practical, durable, and functional objects for both outdoor and everyday use. It includes instructions on everything from gaiters and knife pouches to aprons and flowerpots. Makes a great gift for Father's Day!
I received complimentary copies.
Cassandra's Review- What a great way to gift to a loved one! I know it takes time and a lot of work, but the fun and easy to understand books will take your sewing up a notch and even if your a veteran at the craft, this is still going to bring some great new ideas.
It can also be a great time to buy a new
sewing machine
.