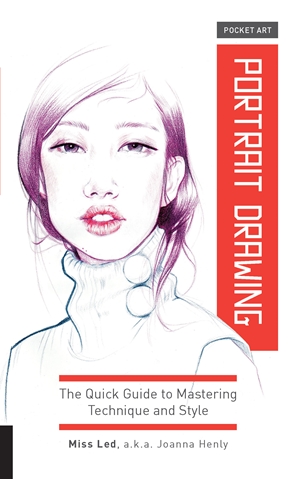 Pocket Art: Portrait Drawing
The Quick Guide to Mastering Technique and Style
Author: Joanna Henly
The instructions are quick visual exercises in Pocket Art: Portrait Drawing, the first book in the new Pocket Art series.
This lively, graphic approach to explaining concepts will have you looking and learning with step-by-step illustrations and expert tips straight from London-based artist Joanna Henly (aka Miss Led). This compact 112-page book is just right for carrying in a backpack or pocket for when you're learning on the go.
Henly begins by guiding you through your initial setup, then moves on to "Understanding the Face." She takes you through every detail of capturing facial features and expressions, and mastering the rendering of hair and skin. Her exercises demonstrate and reinforce everything you learn as you go along.
Cassandra's Review- If you are a beginner this book can be a bit hard to focus on just one thing. The instructions are there but they are so many different things to learn and the art is amazing but recreating it is a bit of a challenge.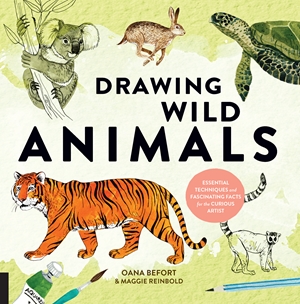 Essential Techniques and Fascinating Facts for the Curious Artist
Featuring the delightful and informative illustrations of artist Oana Befort and the inspiring expertise of conservation educator Maggie Reinbold, Drawing Wild Animals guides artists at all skill levels as they learn about, observe, and draw animals in a whole new light.
To feed your curiosity, you'll learn the characteristics, behaviors and, habitats of animals from categories like predators, grazers, and marsupials. To nurture the artist, you'll get step-by-step instructions that show how to develop each animal from simple shapes into richly detailed drawings. Armed with a deeper understanding of animals, you'll be better able to capture their stunning beauty and enchanting attributes in your artwork.
Cassandra's Review- Of course the animals are really nice in this book and it takes a lot of time to create them, but it is fun if you have patience. I think that as far as the instructions and challenge this book would be good for any level of artist or someone who just loves to draw.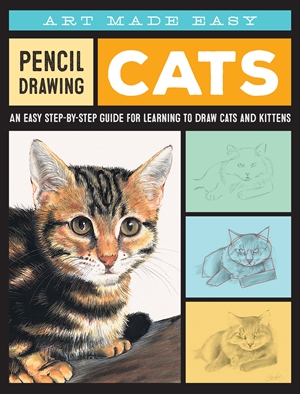 An easy step-by-step guide for learning to draw cats and kittens
With its intuitive design and approachable instruction, Pencil Drawing: Cats is the perfect resource for new artists learning the basics of pencil drawing before moving on to more complex drawing subjects. Filled with tips and techniques on the drawing fundamentals, including an introduction to tools and materials, arranging a composition, using the grid method, and practicing gesture drawing, Pencil Drawing: Cats is designed to appeal to the absolute beginner with its easy-to-follow, step-by-step projects and approachable design. There are also full-color photographs for easy reference as you learn to draw different breeds, such as the Russian Blue, Maine Coon, Norwegian Forest Cat, Siamese Cat, and the household tabby.
Cassandra's Review- The cats in the book are hard to draw. I feel like there could have been more step by step guidance to help out because the details and techniques are a lot harder than expected. The book was very cute and fun to look at.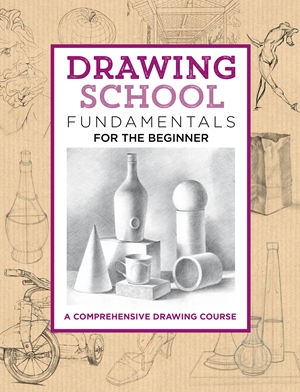 A comprehensive drawing course
Structured like a traditional drawing class, Drawing School: Fundamentals for the Beginner covers the concepts all serious beginning artists need in order to master basic drawing skills, including form, space, depth, proportion, composition, perspective, and more. To start the exploration, California State University art professor Jim Dowdalls demonstrates how to use the different types of drawing tools, including how to hold a pencil, how to use supports, and how to make a variety of marks and strokes. Artists will discover helpful information for understanding value and learning to create a value scale, as well as how to build value in their drawings using various techniques.
Throughout this educational book, myriad step-by-step exercises and drawing projects encourage artists to put their newfound knowledge to use and practice the concepts and techniques demonstrated. With the skills and techniques they acquire in this comprehensive yet affordable drawing course, beginning artists will be ready to take their artwork to the next level. Filled with beautiful artwork that will inspire budding artists to continue to build and grow their craft, Drawing School: Fundamentals for the Beginner is the perfect place to start a mastery of fine art.
Cassandra's Review- With both visual and informative pages this book is so powerful as a tool to help your new artist. I think that older teens really enjoyed this one with me as well because of the amount of knowledge included and this is the kind of book that you could easily spend the day reading and then use for reference all of the time.
I received complimentary copies.