Scratch & Draw Enchanted Animals by Marisa Redondo
Use the easy-to-follow drawings to make your own beautiful artwork!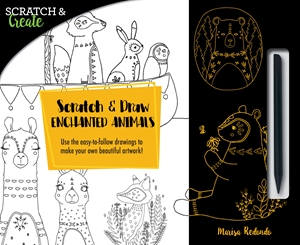 Create 20 of your very own decorative pieces of art with
Scratch & Draw Enchanted Animals
. Forget about coloring in, it's time to start scratching out!
Use the included stylus in this unique scratch book to scuff, scrape, and scratch dark metallic coating away from the pages and create art of your own. Scratch & Draw Enchanted Animals features 20 inspirational and decorative illustrations of:
Rabbits and dandelions
Woodland raccoons
Elegant owls,
Foxes
Bears
A whole forest worth of other enchanting wildlife.
Each drawing is created with simple lines and shapes. You can either follow along with the drawings or feel free to design your own variations as you create your own personalized scratch art on the opposite page. Sit back and relax with this meditative and pleasant art activity.
Revealing enchanting animals and their world may just be the perfect way to unwind after a stressful day of adult life. And best yet, each page is perforated, so your beautiful animal designs are ready to tear out and display!
I received a complimentary copy.
Cassandra's Review- You can either enjoy relaxing with this activity or let the kids join you for some higher paced drawing. It is fun to see everyone's own style choice plus it is small enough to fit into a larger purse or diaper bag for on the go fun.