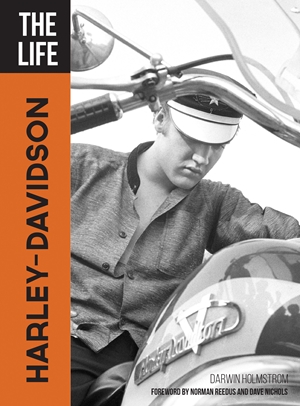 The Life Harley-Davidson
Author: Darwin Holmstrom
If you've felt the unabashed freedom that comes with a motorcycle, then you know the Harley lifestyle. The Life Harley-Davidson takes a deep look at all aspect of the life that comes with these bikes.
From the moment we first saw riders experiencing the joy and the freedom that can only be found riding a powerful motorcycle down an open road, many of us have been hooked on the life Harley-Davidson. The Life: Harley-Davidson celebrates that freedom.
The Life Harley-Davidson covers all aspects of the Harley lifestyle, profiling celebrity Harley fans like Elvis Presley, Hunter S. Thompson, Peter Fonda, and Arnold Schwartzenegger. All the iconic machines are here, too, like the Sporster, Electra Glide, and Fat Boy. The book also explores all the major types of custom Harleys, like Bobbers, Choppers, and Cafe racers.
This is about more than just motorcycles, though. It's about community, gear, and tattoos. It's about B movies, like The Wild One, The Wild Angels, and Wild Hogs. And, of course, television's Sons of Anarchy, a program that ignited interest in the life Harley-Davidson among a younger generation of rebels. Chapters cover the one percenter outlaw club scene, focusing on international clubs like the Hells Angels, Outlaws, Pagans, and Dragons.
Cassandra's Review- Perfect for the Harley lover and a great gift for any dad that has ever thought about riding the open road. The book covers a range of topics that are sure to please the rebel dads out there.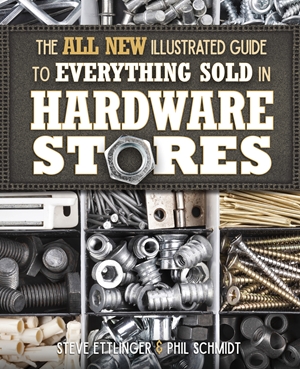 The All New Illustrated Guide to Everything Sold in Hardware Stores
Author: Steve Ettlinger
Author: Phil Schmidt
The All New Illustrated Guide to Everything Sold in Hardware Stores is an updated edition of the everyone's favorite hardware shopping guide and reference book.
There's nothing more frustrating than making multiple trips to the hardware store because you purchased the wrong item. Those double--or even triple-trips to the big box store are a thing of the past with The All New Illustrated Guide to Everything Sold in Hardware Stores. You'll learn the difference between drywall screws and deck screws; between faucet washers and neoprene O-rings; and between red wire nuts and blue wire nuts. And that's before we even get to understanding nail gauges and drill bit sizes!
Looking through the range of products at home stores can be downright bewildering, but with this handy guide you'll know exactly what you're looking for and why. The next time you talk to a hardware store clerk, rather than asking for "screws about 2 inches long", you'll be able to ask for a #3 gauge 2-1/4-inch-long panhead screws with SAE 5/16" flat washers.
The All New Illustrated Guide to Everything Sold in Hardware Stores is filled with color photos that let you see in lifesize scale what different screws and nails and washers and bolts are called, accompanied by brief descriptions of their recommended uses--so you'll be able to ask for them with accuracy and use them with precision.
Cassandra's Review- Packed with most of what you need to learn in order to accomplish a trip to the hardware store. What I mean is that there are terms and pictures to help even the novice dad to be able to tinker with finding the right tools for projects. It is a resource that can help even before you get into the store and makes asking or looking for the right tool a lot easier.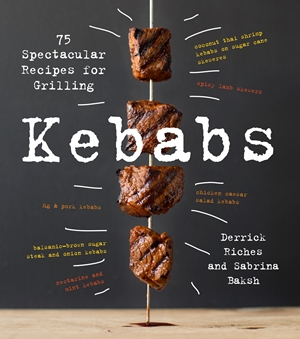 Author: Sabrina Baksh
Author: Derrick Riches
It's time to put a new spin on this classic backyard grilling staple with some advice from the experts in Kebabs. These grillers traveled the planet and found the best skewered meals it had to offer.
Everyone loves grilling up kebabs, but it's easy to fall into the mushroom, pepper, chicken/beef rut. In Kebabs, Derrick Riches and Sabrina Baksh take this quick and easy grilling method for a brand new spin.
They traveled the backroads of the Barbecue Belt and studied street-food stalls where skewered, grilled foods are most famous, like Greece, Turkey and the Middle East, India, and even Japan (yakitori) and France (brochettes).
There are ample recipes for beef, chicken, fish and seafood, vegetables, and even fruit, plus vegan substitutions are included for meat recipes. Kebabs includes plenty of technique guidance, too. Are metal or wood skewers better for grilling? Do you really need to soak wooden skewers before cooking?
Not to mention a myriad of rubs, sauces, and mops that make kebabs optimally flavorful and moist, Kebabs makes backyard grilling more globally adventuresome, and flavorful, than it's been before -- all with minimal prep time and effort.
Cassandra's Review- The book makes you crave kebabs and this is filled with ideas. The ingredients seem simple enough to find at a local store. If you have a dad that enjoys the art of making kebabs this is going to be a great gift. Perhaps you can even put together a little basket of ingredients or buy a grill as an add on gift.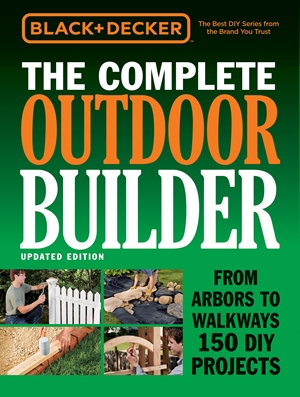 Black & Decker The Complete Outdoor Builder
- Updated Edition
From Arbors to Walkways 150 DIY Projects
Find more than 150 projects for building custom decks, patios, fences, sheds, and more!
From building a new deck to creating a garden pathway, the great outdoors is the most popular place for homeowners to showcase their creativity and skill. With more than 150 outdoor building projects shown with step-by-step photography, Complete Outdoor Builder has a project for anyone, guaranteed to improve your yard. This updated and redesigned book with a handsome hardcover is sure to find a permanent place on the shelf of anyone who wants to create and maintain a beautiful outdoor living space.
The Complete Outdoor Builder includes a wide range of projects and appeals to all skill levels. Building decks and patios are among the most popular categories for outdoor construction, and you'll find all the techniques and skills--as well as complete lists of tools and materials required--to design and build your own. Complete Outdoor Builder also offers plans and revamped photography for more than a dozen designs that you can replicate or use as inspiration for a custom project. Designed, built, and photographed by professionals, the fun projects in this book also have the stamp of approval from Black & Decker(r), the most trusted name in DIY tools and equipment. Roll up your sleeves; it's time to build something great.
Cassandra's Review- Projects are something most dads love to take on. Now some dads have the skill level to DIY anything but some might not and this book is perfect for both. It has ideas that may seem hard to figure out, but with the right tools and time they can be achieved. The projects can even be shared with the family to create memories as well.
Lastly if you have a dad that like the outdoors and spending time with the kids, check out this.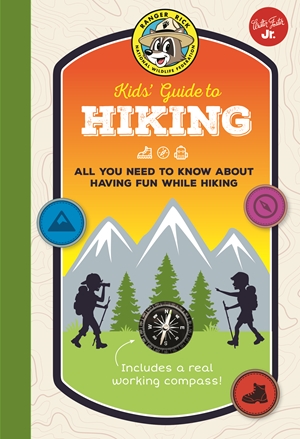 Ranger Rick Kids' Guide to Hiking
All you need to know about having fun while hiking
Author: Helen Olsson
Ranger Rick Kids' Guide to Hiking shows you everything you need to know to have the most amazing hiking experiences! The book includes a real working compass that will help you find your way.
Hiking is more than just a walk in the woods. Every outing is an adventure, and you never know what a hike will bring. By reading this book, you'll learn where to go to hike, when to go, what to wear, and what to bring with you. You'll also learn how to take care of nature and how to stay safe while on the trail. But best of all, this book shows you how you can have the most fun while hiking.
For some kids, hiking itself might be adventure enough. But you can also bring along a nature journal or create land art. Bring a special hiking buddy with you—one who knows lots of good jokes, riddles, and games to pass the time. You can hike with your pooch, and believe it or not, you can even hike with llamas!
The more you know about hiking, the more fun you can have on your adventures. So read the tips in this book at home before you go, and then head for the great outdoors and use the compass to help you find your way. Happy hiking!
Cassandra's Review- It is a basic book with a cool compass that really works. The book is perfect for a hiking adventure and will teach your kids safety and other great information for spending time outdoors.
I received complimentary copies.