Anywhere, Anytime Art: Colored Pencil
A playful guide to drawing with colored pencil on the go By Cara Hanley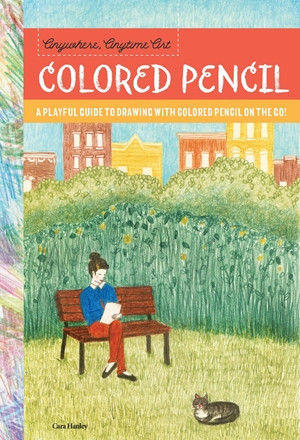 Anywhere, Anytime Art
: Colored Pencil makes colored pencils approachable and accessible. The author's contemporary art style takes a fresh approach to colored-pencil artwork, which can be dry and traditional-looking. Anywhere, Anytime Art: Colored Pencil presents colored-pencil drawing in a youthful way, focusing on urban and suburban scenes as well as subjects from daily life.
Learn basic drawing topics like tools, materials, drawing techniques, and color theory, and then dive into helpful tips, hacks, and techniques for creating art while out and about. Step-by-step projects covering a variety of subjects, from campers and cafes to cats and cityscapes, make drawing with colored pencils quick, easy, and fun for artists of all skill levels.
Learn to be spontaneous with your artwork, and expand your artistic horizons!
I received complimentary copies.
Cassandra's Review- I think this book is challenging but great. You will not need a bunch of supplies to have some fun on the go. It in the hotter months it is wonderful to find activities to do to stay cool indoors or maybe while the kids are playing. I also think that my older children have a great time learning new techniques in a fun and easy to understand way.
Anywhere, Anytime Art: Gouache
An artist's guide to painting with gouache on the go By Agathe Singer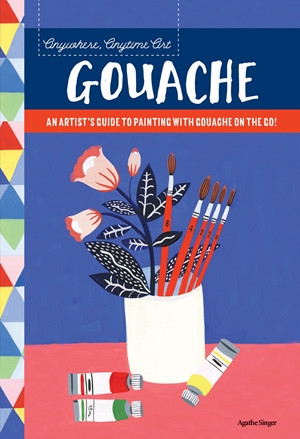 Take a fresh look at an up-and-coming art medium with Anywhere, Anytime Art: Gouache!
Gouache paint has a long history, but it's often associated with watercolor and multimedia art. Until now, that is! Trendy artists with large social-media followings are reinvigorating gouache, making this the ideal time to add this medium to your toolbox...or start your art journey with it!
Like the other books in the Anywhere, Anytime Art series, Gouache explores this medium in a portable, approachable, and contemporary way. Basic painting topics, such as tools and materials, techniques, and color theory, are presented in an easy-to-read, visual style. The subsequent step-by-step projects focus on various subjects that artists can find anywhere, whether they're home or out and about. Artists can learn to paint their favorite things, including plants, flowers, cats, patterns, and more.
Anywhere, Anytime Art: Gouache is filled with vibrant, colorful artwork that's sure to inspire any artist to give gouache a try and get out there and paint!
Cassandra's Review- I think this book has great ideas and very helpful steps to give you the best chance at creating gouache on the go. It might be a bit messy and time consuming, but would be great for the artist with some extra time.