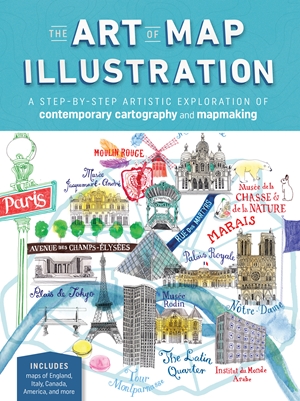 The Art of Map Illustration
by James Gulliver Hancock, Hennie Haworth, Stuart Hill and Sarah King
A step-by-step artistic exploration of contemporary cartography and mapmaking
In The Art of Map Illustration, four well-known artists take you on a journey through their unique techniques to mapmaking with a range of media, including pen and ink, watercolor, and mixed media, plus tips and advice for working digitally.
Each artist provides a brief overview of their recommended tools and materials, along with tips and inspiration for using, exploring, and experimenting with the medium. From intricate line drawings, to bold and colorful city maps, you will bring your favorite locations to life, and use visual storytelling to express time and place.
Packed with engaging instruction, professional tips, and beautiful finished artwork, The Art of Map Illustration is the perfect resource for contemporary artists seeking to learn the time-treasured art form of cartography.
I received a complimentary copy.
Cassandra's review- The book is so fun to read and think about, but it does require skill to actually create with. The author talks about using photoshop and people might not have access to this or be too young to grasp the concept, so this is more for advanced and older learners. Younger kids will have fun looking at the wonderfully done illustrations.