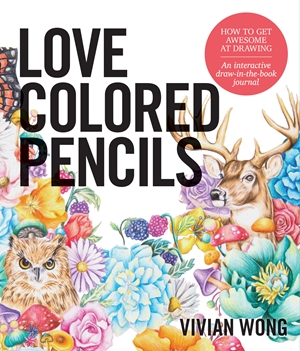 Vivian shares her love of colored pencils and explains that one way "baby-artists" learn to be better is by copying what they see.
Love Colored Pencils
is designed to enable exactly this.
On one side of each spread, Vivian demonstrates a technique or she colors in a subject, and on the opposite page or the next spread, the reader is encouraged to copy what they see, drawing directly in the book. Exercises throughout offer fun ways to explore drawing while being inspired by Vivian Wong's popular and colorful drawing style. This is a book for all levels of artist who want to explore this versatile and fun medium with a colorful and talented artist baby step by baby step.
I received a complimentary copy.
Cassandra's review- I really enjoyed spending time learning as well as teaching my children with this wonderful resource. While we do not write in the books we do have plenty of paper handy to create and for this book we even had colored pencils. It was great to see the actual process being done in front of you step by step and encouraged my middle aged kids to be more excited about learning while keeping my teens interested.