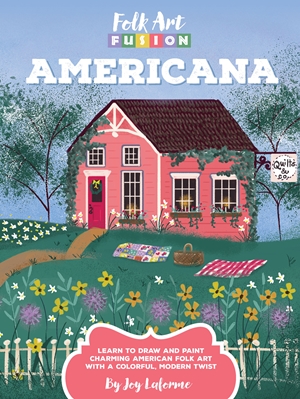 Fans of Charles Wysocki, Mary Engelbreit, Grandma Moses, and folk art in general will fall in love with
Folk Art Fusion
: Americana.
Featuring projects that instruct artists of all skill levels how to draw and paint subjects including quaint homes, pretty patterns, colorful gardens, picturesque farms, beautiful birds, and textured florals, this book features American-themed folk art infused with a modern twist.
Beginning with an overview of what folk art is, followed by introductory topics like color, tools and materials, and drawing and painting techniques, Folk Art Fusion: Americana also includes 16 simple, step-by-step projects done in approachable and popular mediums. Rounding out the book is a gallery of folk-art pieces sure to inspire lovers of all things Americana.
Simultaneously fresh and nostalgic, Folk Art Fusion: Americana draws on America's rich artistic tradition and heritage and provides a fun, accessible take on creating beloved scenes from the heartland.
I received a complimentary copy.
Cassandra's Review- Artists that enjoy the folk art style will love this book. The instructions are readable and the art is so beautiful. I am so glad the author chose to share her techniques and I know anyone can use these ideas go progress in painting.