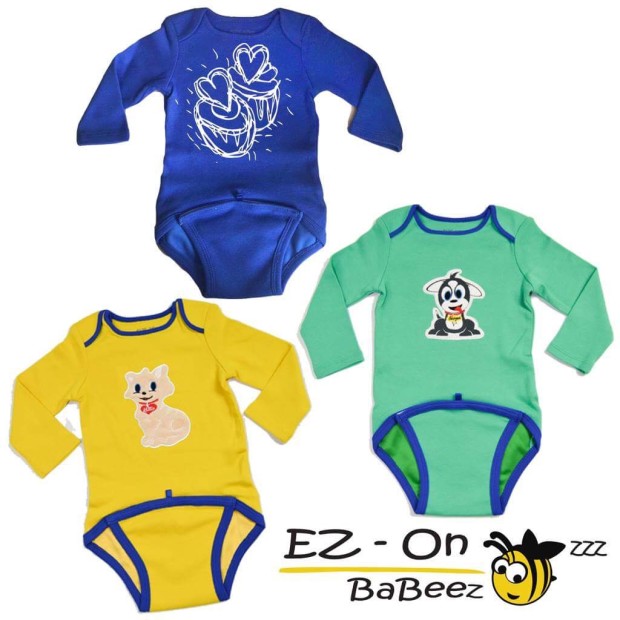 EZ-On BaBeez
is an innovatively redesigned bodysuit for babies, that provides fast and easy access during diaper changes. The soft, scratch-free Velcro closures at the front waist opening replace traditional snaps. Traditional snaps can be frustrating to open and downright difficult to close. Solution solved, no more snaps with EZ-On BaBeez.
An indispensable addition to your baby's wardrobe, the EZ-On BaBeez "onesie" also provides a comfort liner in the diaper area. Wet-resistant, the soft and stretchy fabric lining is easily wiped clean.
"We have "onesies" in solid colors and print designs," says Julieta Recometa, the designer behind EZ-On BaBeez's game-changing creation. "We also have seasonal custom prints and appliqued embroidery designs."
Their design breaks the mold, EZ-On Babeez onesies are available in six traditional sizes: 0-3 months, 3-6 months, 6-9 months, 9-12 months, and 12-18 months. "Onesies" are made of high quality, soft cotton and cotton/spandex blends for the utmost comfort.
EZ-On BaBeez is compliant with US government safety requirements (CPSC).
I received complimentary product.
Cassandra's Review- Super soft and semi stretchy fabric so that it moves with my little ones. I like the ease of the onesies as well as the fabric because it dries a little faster. If you're taking care of babies or or a parent you know that keeping children's poop mess clean and constant changing of clothes can be a pain, so unless the diaper you are using is terrible and super leaky, this will give you better and faster access to the mess. The velcro is secure and it has like a bathing suit feel to it.