Amazing World Sea Creatures by Lee Martin
Encounter 20 Amazing Light-Up Animals--Includes 13 Glow-In-The-Dark Stickers!
From the lanternfish, to the Atolla jellyfish, to the glowing bioluminescent octopus, the ocean is filled with animals that gleam and glow.
Go on an electrifying journey to see how these living lights use bioluminescence, fluorescence, and symbiotic bacteria to light up! Amazing World: Sea Creatures reveals the fascinating lives of twenty strange and amazing marine animals and includes glow-in-the-dark stickers!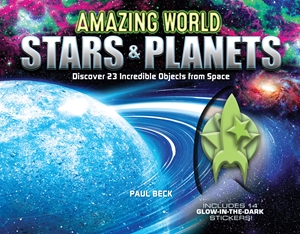 Discover 23 Incredible Objects from Space--Includes 14 Glow-In-The-Dark Stickers!
There is more to outer space than what we can see in the night sky. Explore it all with Amazing World Stars & Planets and be a real space traveler.
How is a star born? Why does it die? What is the difference between a star cluster and a planetary nebula? Discover the answers to these questions and more in Amazing World: Stars and Planets! This exciting exploration is a door to the infinite realm beyond the pale blue dot we call home.
From stellar nurseries, to glowing green clouds, to spiral galaxies, find out about the dramatic lives of these explosive players in our universe. This is the perfect introduction to the great celestial bodies of outer space for science lovers and their children. Kids will love the gorgeous, bright images, and will also learn quickly from the easily digestible bites of information on each page.
Amazing World Stars & Planets also includes a collection of glow-in-the-dark stickers to put on notebooks, folders, bedroom ceilings, anywhere!
I received complimentary copies.
Cassandra's Review- Beautiful books that include facts, fun and color that will delight your younger readers. You may even learn quite a bit of new facts if you take the time to enjoy these with them. With the added Glow stickers you can create a world for them to enjoy and let young minds wonder.