I Love a Book
Hardcover / 9781633222267 / $16.95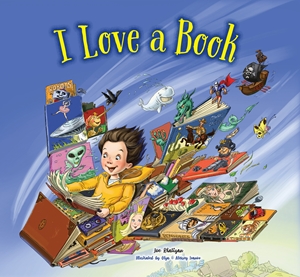 This celebration of books, reading, and our imaginations opens with a list of types of books and where to find them. The simple, lyrical prose then becomes more frantic as a young reader encounters pirates sailing the sea, a classroom of monsters "learning math with their paws," and even an animal doctor making house calls in a helicopter. This book is for anyone who loves books and wants to instill this passion in the next generation.
I recevied a complimentary copy.
Cassandra's Review- The illustrations are beautiful and helped the book come to life. This is a great find for a young reader because it will inspire them to pick up a book and delve into their imagination. I think that by reading this out loud to your classroom or family, you will be able to fully express the need to keep books and reading alive.