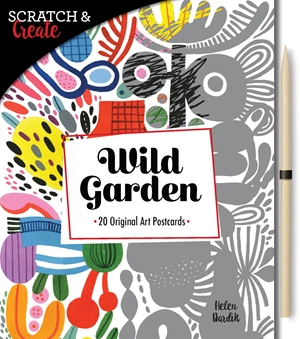 Scratch & Create: Wild Garden by Helen Dardik
Discover amazing, full-color artwork by scratching away metallic coating with a special stylus as you enjoy an extremely relaxing activity.
Let your creativity and senses develop as you work around the page to discover a world of shapes and colors. Scratch off all the coating to reveal 20 delightful, original postcard designs by artist Helen Dardik, ready to send or display.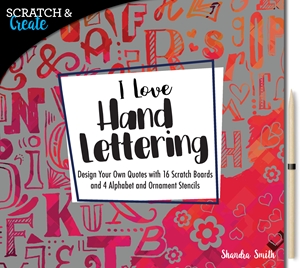 Scratch & Create: I Love Hand Lettering by Shandra Smith
Get in touch with your inner poet as you create beautiful quotes on love. The romantic inside you will flourish as you discover amazing, full-color artwork beneath these sheets of metallic coating!
With a special stylus, you can scratch, draw, and design your own pieces of art as you enjoy this relaxing activity. Let your creativity and senses develop as you use lettering stencils to create your favorite, passionate sayings on love against colorful background art by Shandra Smith.
This kit comes with everything artist need to get started; three styles of alphabet stencils, a set of ornaments to decorate your mantras, and 16 scratch sheets. Each sheet comes with a surprise, unique, and colorful backgrounds which will show through your design. Each sheet is perforated for easy removal, so your art is always ready for gift giving or display!
I received complimentary copies.
Cassandra's Review- If you have an artist or even someone in your life that loves to try new ways to create, the two books above are going to be super. hey remind me of a toy I had growing up, except you can not redo them. My older aged kids loved being particular and creating designs but the younger kids just loved the colored background and wanted to play with the scratching aspect so depending on your age level this might be more useful.