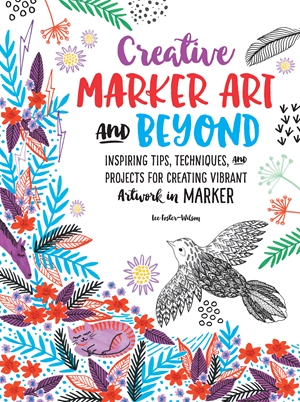 Creative Marker Art and Beyond by Lee Foster-Wilson
Inspiring tips, techniques, and projects for creating vibrant artwork in marker
ISBN: 9781633223394
Walter Foster | September 1, 2017
No matter your skill level, you're sure to love our route through the world of drawing with markers. This great guide kicks off with basic tools, materials, techniques, and color pointers. From there, you'll jump into creative prompts, easy exercises, and step-by-step projects. Creative Marker Art and Beyond will have you trying a new medium and drawing with markers in no time.
The book also includes helpful advice for successfully composing drawings, building and layering colors, shading, and adding pen, not to mention giftable artwork done on a variety of fun, accessible surfaces. Dive into the awesome and dynamic medium that is the marker! Create beautiful nature scenes, patterns, flowers, colorful trees, animals, and more with Creative Marker Art and Beyond.
I recevied a complimentary copy.
Cassandra's Review- Informative and fun for all ages, this book shows you how to create with markers along with taking it to the next level and adding projects. My family had a lot of fun learning and trying the techniques.