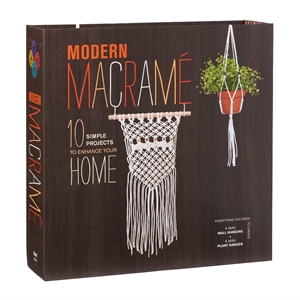 Modern Macramé by Justine Vasquez
10 Simple Projects to Enhance Your Home
ISBN: 9780760355022
becker&mayer!
| September 19, 2017
Macramé is making a big comeback, and this kit provides exciting and attractive projects inspired by classic favorites, like an owl hanging, and a market shoulder bag. This is macramé for a new generation, though, and includes modern twists like coasters and a customizable hanging shelf. Includes 10 elegant designs, step-by-step instructions, an introduction on knot tying techniques, and all the supplies needed to create a mini plant hanger and a mini wall hanging.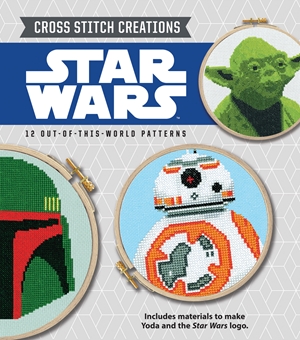 Cross Stitch Creations: Star Wars by John Lohman and Rhys Turton
12 Out-of-This-World Patterns
ISBN: 9780760355206
becker&mayer! | September 12, 2017
Now Star Wars fans can show their love of a galaxy far, far away with 12 fabulous cross-stich projects. With patterns featuring the likes of R2-D2, BB-8, stormtroopers, and Darth Vader as well as logos of the Empire, the Rebellion and Star Wars franchise, this comprehensive kit will delight fans of every ability. An easy-to-follow, fully illustrated instruction booklet includes a range of projects, from novice to expert. The kit comes with a needle, embroidery floss, a hoop, and cloth to complete two projects.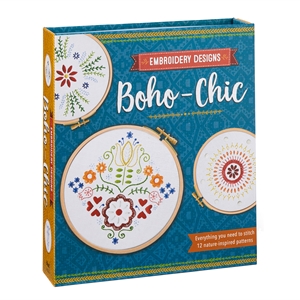 Embroidery Designs:
Boho-Chic by Kelly Fletcher
Everything You Need to Stitch 12 Nature-Inspired Patterns
ISBN: 9780760355183
becker&mayer! | September 12, 2017
This beginner-friendly embroidery kit contains twelve boho-chic patterns for stitching trendy flair onto clothes and decor. In addition to 12 iron-on transfer patterns, this kit includes needles, an embroidery hoop, white fabric, and ten skeins of colorful floss. Craft and DIY enthusiasts can mix and match designs like feathers and folk birds to stylishly embellish everything from clothes and throw pillows to wall hangings and totes.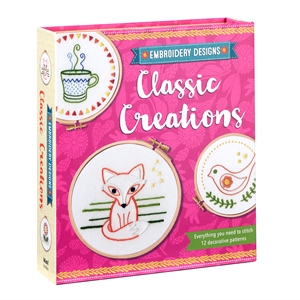 Embroidery Designs:
Classic Creations by Kelly Fletcher
Everything You Need to Stitch 12 Decorative Patterns
ISBN: 9780760355190
becker&mayer! | September 12, 2017
Blending classic style, undeniable cuteness, and an elegant, modern sensibility, Embroidery Designs: Classic Creations comes with everything crafters need to get stitching. Featuring twelve patterns, two needles, three iron-on transfer sheets, two pieces of white fabric, ten skeins of colorful embroidery thread, and a six-inch embroidery hoop, this fully stocked kit has it all. With this kit to guide them stitchers will delight in adding sweetness and personality to everything from tea towels and tote bags to onesies, napkins, and pillowcases.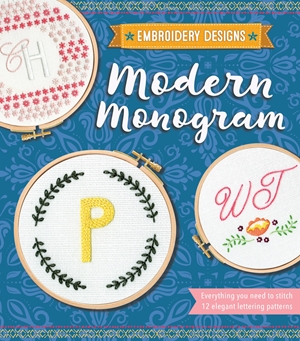 ISBN: 9780760355220
becker&mayer! | September 12, 2017
Simple, elegant monograms never go out of fashion. Blending classic designs with a chic, modern sensibility, the twelve appealing patterns here can be customized by crafters to easily add monograms and initials to everyday items and handmade gifts. This comprehensive kit makes it possible for stitchers of every level to get started right away. Along with twelve patterns and a selection of lettering styles (primary and secondary), the kit also includes two needles, three iron-on transfer sheets, two pieces of fabric, ten skeins of embroidery floss, and a six-inch bamboo embroidery hoop.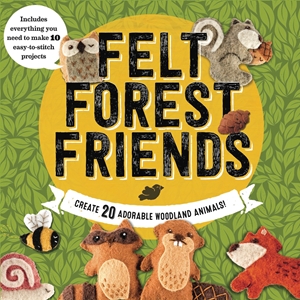 Felt Friends: Woodland Critters by Aimee Ray
Create 20 Cute Forest Friends
ISBN: 9781631063756
becker&mayer! | September 12, 2017
This unique kit includes a fully-illustrated book of 20 cuddly, felted, animals and plants, plus all the tools and supplies needed to create ten sweet woodland creatures. Each project includes step-by-step instructions along with a photo of the finished product and how to customize each critter. Includes an embroidery needle, a fabric pen, die-cut templates, felt embroidery floss, and stuffing; everything you need to get started.
I received complimentary copies.
Cassandra's Review- The great books featured will provide you and or your family with hours of crafting fun. The projects are easy to learn and if you already know how to do them, it is even simpler to get started. All ages can really enjoy these even if you have children with special needs, as long as they can understand and do them safely, the books would make a great gift.