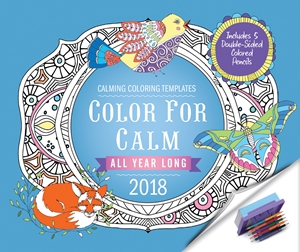 COLOR FOR CALM ALL YEAR LONG 2018 By Carrie Stephens
ISBN: 9781631063510
Rock Point Publishers
| August 1, 2017
$14.99 US · $18.99 CAN · 316 pages · Calendar
COLOR FOR CALM ALL YEAR LONG 2018 offers 314 coloring templates for grown-ups looking to calm down and relax in a demanding digital age. Our lives become busier with each passing day, and as technology escalates, so does our access to work, obligations, and stress. Constant stimulation and expectation have left us burnt out and distanced from the present moment. This boxed calendar has a unique feature of five double sided colored pencils attached to the back stand. This will make it easy to color yourself calm all year long!
I received a complimentary copy.
Cassandra's Review- I love to color, so being able to find calm for each part of the day, is a great idea. My children can each have days to color which makes it a great activity. The colored pencils are a perfect touch!