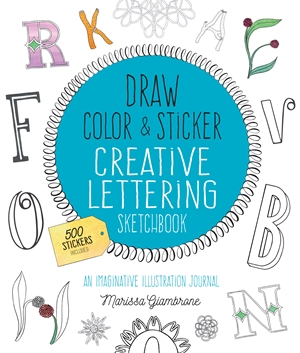 Draw, Color, and Sticker Creative Lettering Sketchbook by Marissa Giambrone
An Imaginative Illustration Journal
ISBN: 9781631593376
Quarry Books
| July 1, 2017
USD: $19.99 | CAN: $25.99
Draw, Color, and Sticker Creative Lettering offers page after page of beautiful inspiration designed to get you drawing letters! Stickers and partially illustrated pages provide a rich canvas to encourage you to practice drawing with a multitude of elements and across multiple themes. Black and white drawings with touches of color will get you started, and invites further experimentation. The uncoated paper stock is perfect for drawing, painting, and coloring with any variety of materials. The included stickers are printed on soft uncoated paper so they can take color or additional drawing on top!
I received a complimentary copy.
Cassandra's Review- If you are interested in cute font and ways to draw it, this has a few great ideas. I thought the animal creatures were super cute. The actual lettering can be a bit challenging. It was really fun to browse through and kind of fun for my to try out the different styles. My kids had more fun as the older ones really enjoy arts and crafts so the stickers were a huge hit.