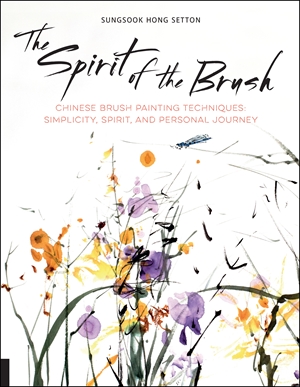 The Spirit of the Brush: Chinese Brush Painting Techniques: Simplicity, Spirit, and Personal Journey
By
Sungsook Hong Setton
Rockport Publishers | June 15, 2017
Trade Paperback | 128 Pages
USD: $22.99 | CAN: $29.99
ISBN: 9781631592904
Artist and teacher Sungsook Setton, who learned the techniques of Chinese ink painting with Chinese and Korean masters in her native South Korea, brings new excitement to this age-old art. While teaching the traditional disciplines for holding and using the brush, in Spirit of the Brush she shows readers how to turn the techniques and inner meditation toward interpreting their own world: city views, music, and the essence of contemporary life. It's minimalist approach to painting continues to have enormous appeal.
Sungsook Setton is a Korean-American artist and calligrapher. In addition to her training in brush painting and calligraphy under Chinese and Korean masters, she has also studied Western art in Germany, the United Kingdom, and the United States. Setton's work has been widely exhibited globally and she has received two dozen awards for her work, including twice winning Best of Show at the National Juried Exhibition by the Sumi-e Society of America.
I received a complimentary copy.
Cassandra's Review-- It would take me forever to create a perfect image of the work that this artist has, even with the helpful instruction. The artist has such a precision and style that is really hard to copy, however the art is so pretty and easy to enjoy. The techniques are going to help any artist no matter what skill level.