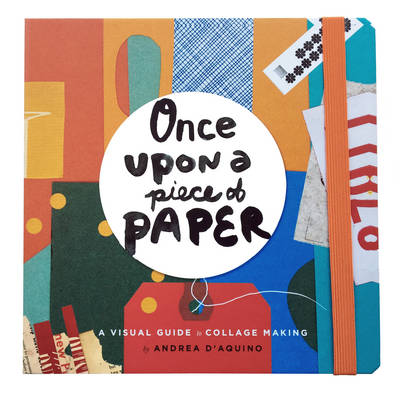 No one needs to be told that stress levels are at an all-time high. Post-election, pre-holiday, we are all overwhelmed.
Last year coloring books seemed to be the perfect way to unwind and relieve everyday tension and connect with a simple and satisfying inner creativity
This year we need a little more.
The next step is an art as primal and gratifying as coloring, but one that requires a little more focus, a little more flexibility, a little more active expression of choice and personality.
Collage is not only a currently trending art form, it is a simple and accessible way to focus on the inner self and ignore the outside world for a while. It requires only basic guidance and material, and allows the creator to express the primal inexpressible, outside of the lines and outside of the rules.
The book
Includes a 112-page paperback book plus a pad of 100 unique collage papers on two-sided sheets, all inside of a beautiful hardcover case with an elastic band. Find out how layers of simple paper can create mysterious and beautiful worlds within worlds through the art of collage.
Once Upon a Piece of Paper: A Visual Guide to Collage
is a dynamic mix of art-making wisdom, creative inspiration, and fun activities to guide curious artists on the art of collage. Readers are treated to a simple yet sophisticated "look and learn" approach, all in a very special package.
Yet, how does one begin collaging? While there's not a hard set of rules, collage artist Andrea D'Aquino shows that there are important things a new artist needs to know when they begin making work. As she shares insights into the artistic process, D'Aquino's playful compositions illuminate various approaches to the art form, spark ideas for creativity, and encourage aspiring artists to take risks, allowing space for wonderful accidents to occur.
The entire package includes an attractive hard cover case with a 112-page paperback book and 50 two-sided sheets of unique, printed collage papers to get you started. This set begs to be the inspiration for all your collage mysteries, discoveries, and creations.
Publisher: Quarry Books
ISBN: 9781631592645

I received a complimentary copy.

Cassandra's Review- The only problem I had was that this book is so visually beautiful I did not want to wreck the paper and wonderful additions. It really includes everything needed to get anyone's mind ready for abstract project in collage. The author helps and inspires in a way that makes this book a really cool gift for any age, old enough to read and understand it.